Peter Fitzgerald, OpenStreetMap [1] [CC BY-SA]
San Francisco, much like New York City, is more of a collection of neighborhoods than one cohesive city. Within its mere 46.89 square miles, the city has over 100 neighborhoods and micro-neighborhoods, each with its own unique characteristics. The boundaries of these neighborhoods are ever-changing and constantly the subject of debate, but there are a handful of longstanding neighborhoods that are integral to the city's past and present.
Which neighborhood you choose to reside in, whether you're moving to San Francisco or just in need of some new scenery, is a major statement of who you are and what you're all about. If you're visiting, exploring the city's most quintessential 'hoods is key to getting to know San Francisco as a whole.
Here's your guide to San Francisco's major neighborhoods and what you should know about them.
Marina District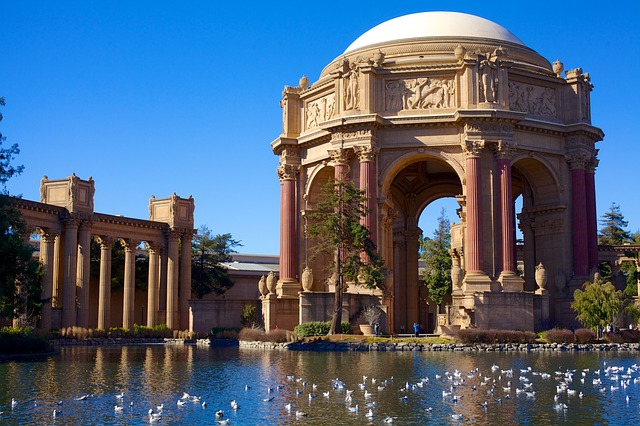 The Marina District was almost completely destroyed after the 1906 San Francisco earthquake. It was later rebuilt and served as the site of the 1915 Panama–Pacific International Exposition, a world's fair celebrating completion of the Panama Canal and San Francisco's reemergence after the earthquake. The Palace of Fine Arts was originally constructed for this event, and still stands today as one of the city's most recognizable landmarks.
Today the Marina is populated by affluent senior residents and young professionals. Aside from the Palace of Fine Arts, popular spots include Crissy Field and the Marina Green for kite flying and views of the Golden Gate Bridge, Angel Island and Alcatraz Island, as well as the shops, restaurants, bakeries, cafes and bars along Chestnut Street.
Cow Hollow
Cow Hollow, as the name suggests, was once land used for cow grazing as well as a fishermen's settlement. The neighborhood is now popular among young professionals. Its main thoroughfare, Union Street, is teeming with boutique restaurants, shops and fitness studios.
Pacific Heights
Pacific Heights has continually been recognized as one of the most expensive neighborhoods in San Francisco and the entire United States. It's known as where old money meets new tech billionaires; for instance, notable residents include Oracle co-founder Larry Ellison, Apple's Chief Design Officer Jony Ive and philanthropists Ann and Gordon Getty.
A six-block section of the neighborhood along Broadway is referred to as San Francisco's "Gold Coast," due to its massively expensive mansions owned by tech and finance moguls. In 2017, an 11,400-square-foot mansion at 2712 Broadway sold for $40 million, becoming the most expensive real estate ever sold in the city.
Russian Hill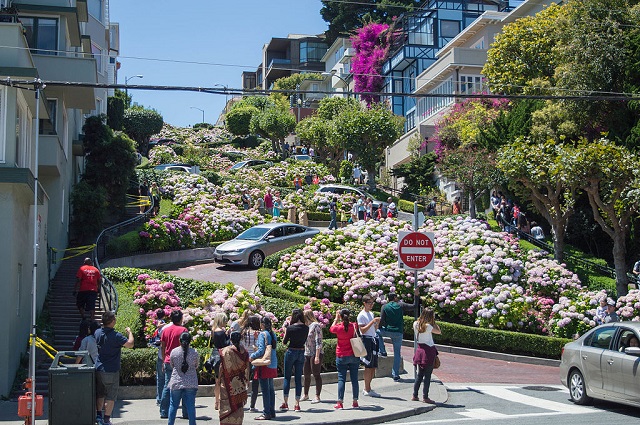 Russian Hill is both a neighborhood and one of San Francisco's 44 hills, making it a great vantage point for city and Bay views. Although residential, the neighborhood is also a tourist magnet thanks to a famous block of Lombard Street between Hyde and Leavenworth Streets. This picturesque, one-way stretch is known as "the crookedest street in the world" due to its eight hairpin turns to mitigate the hill's 27 percent grade. Tourists also frequent the historic cable car line along Hyde Street.
North Beach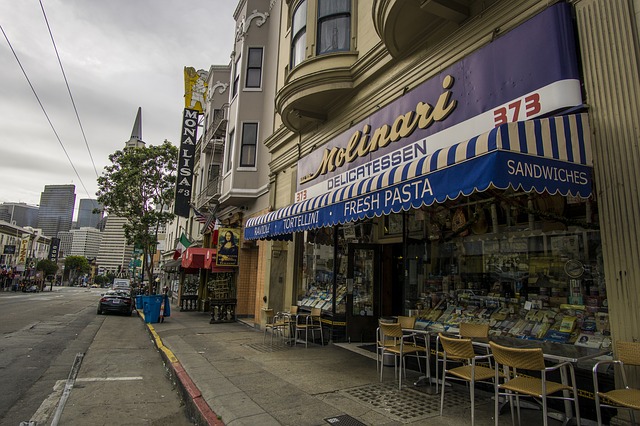 Known as San Francisco's "Little Italy," North Beach has historically been home to many Italian-Americans and still is today. It's also populated by many young professionals, families and Chinese immigrants. In addition to having numerous Italian restaurants, cafes and bakeries, the neighborhood hosts the annual North Beach Festival street fair as well as the San Francisco Italian Heritage Parade. Beach Blanket Babylon, the world's longest-running musical revue, began its run in 1974 at North Beach's Savoy Tivoli and will end its run on New Year's Eve, 2019 at Club Fugazi, also in the neighborhood.
Chinatown
San Francisco's Chinatown is the oldest Chinatown in North America and the largest Chinese enclave outside Asia. The city actually has four Chinatowns, but the one wedged between Nob Hill and the Financial District is the most notable. Although it also functions as a tourist attraction, this Chinatown is highly authentic and an anchor for San Francisco's Chinese community. It's also considered the birthplace of the fortune cookie, and is credited with bringing mainstream popularity to Chinese forms of dining like dim sum and hot pot. The neighborhood's architecture is quite distinctive and historical, dating back to as early as 1907 and following the Oriental style.
Financial District
As San Francisco's main central business district, the Financial District is home to numerous corporate headquarters, law firms, insurance companies, real estate firms, banks, other financial institutions. It's where all six of the city's Fortune 500 companies (McKesson, Wells Fargo, PG&E, Gap, Charles Schwab and Salesforce.com) are headquartered. The city's tallest buildings including the Transamerica Pyramid and the Salesforce Tower – staples of the San Francisco skyline – are also found in this neighborhood. Montgomery Street, sometimes called "Wall Street of the West," is the heart of the district.
Civic Center
Civic Center contains many of San Francisco's major government and cultural institutions, including City Hall, the Supreme Court of California, the Asian Art Museum, the San Francisco Ballet, Opera and Symphony and the San Francisco Public Library. It has two large plazas, Civic Center Plaza and United Nations Plaza. The United Nations Charter was signed in this neighborhood on June 26, 1945 at the San Francisco War Memorial and Performing Arts Center, creating the United Nations. Also signed there was the 1951 Treaty of San Francisco, the peace treaty that officially ended the Pacific War with the Empire of Japan.
South of Market (SoMa)
An eclectic mix of warehouses, cultural centers, trendy restaurants, chic nightlife, luxury apartments and high-rise office buildings, SoMa is one of San Francisco's most modern and fashionable neighborhoods at the moment. It's also home to several important local institutions such as the San Francisco Museum of Modern Art, Yerba Buena Gardens, Moscone Center and Oracle Park, as well as major tech headquarters like Salesforce, Airbnb, Uber, LinkedIn, Dropbox and Yelp.
Nob Hill
With its high-end hotels, historic mansions, Michelin-starred restaurants and status as one of the highest-income neighborhoods in the United States, Nob Hill is snidely referred to as "Snob Hill." Residents are mainly upper-class families, young professionals and a growing Chinese immigrant population. San Francisco's four most famous luxury hotels are located in the neighborhood: the Mark Hopkins Hotel, the Stanford Court, the Huntington Hotel and Fairmont Hotel. Grace Cathedral, one of the city's largest houses of worship, is also found in Nob Hill.
Tenderloin
San Francisco is unique in that one of its most economically depressed neighborhoods is located right in the heart of the downtown area, between Civic Center, the Financial District and SoMa. As a low-income neighborhood surrounded by much wealthier ones, the gap between San Francisco's haves and have-nots is strikingly apparent in this part of the city. The Tenderloin has been a last holdout of gentrification and maintained a reputation for homelessness, drug use and other street crimes. Locals and visitors generally avoid this neighborhood due to its questionable conditions, although it does contain some striking murals and longstanding cocktail bars.
The area between the Tenderloin and Nob Hill is known by locals as "the Tendernob" and signifies the city's close proximity of affluent and underprivileged neighborhoods.
Hayes Valley
Another newly fashionable neighborhood, Hayes Valley is dotted with fashion boutiques, art galleries, design shops, acclaimed restaurants and posh nightlife. Despite some recent gentrification, the neighborhood has retained much of its character, with many long-standing establishments still serving affordable food and drinks. Keep an eye out for the stunning architecture as well, such as Victorian, Queen Anne and Edwardian townhouses.
Alamo Square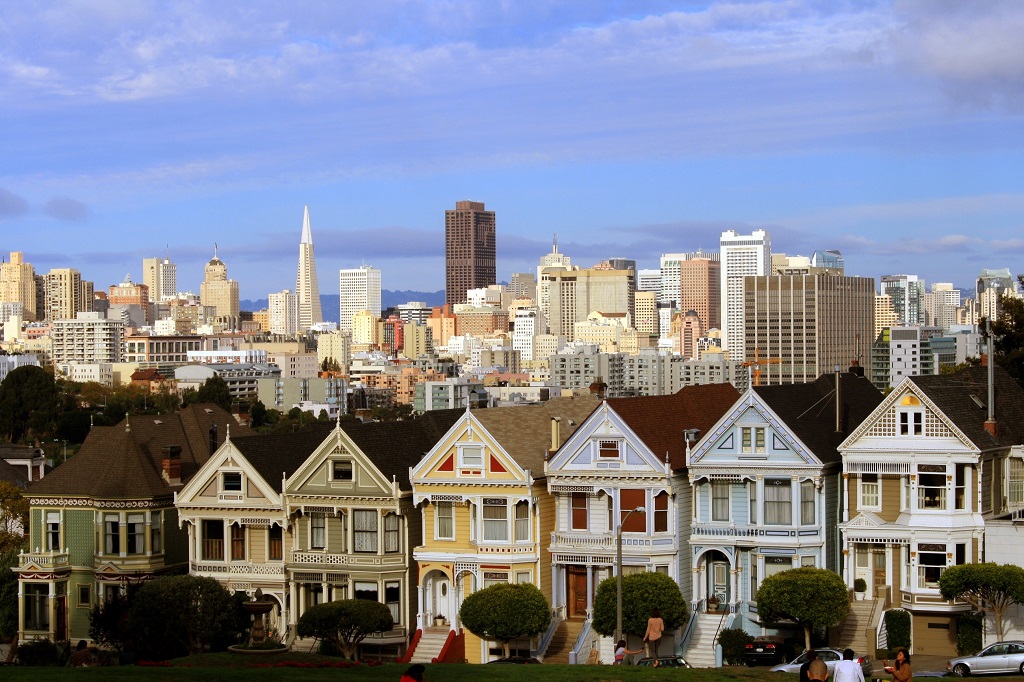 Alamo Square is a micro-neighborhood with ill-defined boundaries, but is widely known for containing Alamo Square Park, a hilltop park overlooking much of downtown. The park is surrounded by distinctive architecture, including one of San Francisco's most famous sights: a colorful row of old Victorian homes nicknamed the Painted Ladies. The Painted Ladies are featured in many depictions of San Francisco, including the opening credits of the TV show Full House. Alamo Square Park is the ideal spot for a photo of the Painted Ladies with the city skyline in the background, or for having a picnic and enjoying the view.
Haight-Ashbury
Also called the Haight, this artsy, free-spirited district is named for the intersection of Haight and Ashbury streets, the birthplace of the mid-1960s hippie counterculture movement. To this day, the intersection is an important symbol of the movement, the cultural center of the neighborhood and a popular photo op. The district's colorful history is still felt in its vibrant architecture, vintage shops, organic cafes and other bohemian elements and attractions.
Mission
The Mission District or "the Mission" is where rich Latino history meets modern hipster vibes. In the 1940s-60s a large number of Mexican immigrants populated the area, followed by Central Americans in the 1960s, giving the neighborhood its strong Latino character for which it's still known today. Walk around and you'll feel this influence among the walls upon walls of colorful murals, not to mention countless taquerías. The tech boom has gentrified the neighborhood and attracted young professionals, giving it a trendier feel, but it's managed to stay true to its roots.
The Mission is home to San Francisco's oldest standing building, Mission Dolores, for which the neighborhood is named. Dolores Park, found on the district's western edge, is one of the city's most popular parks for picnics, sunbathing and recreation with views of the San Francisco skyline. Speaking of sun, the Mission is relatively insulated from San Francisco's notorious fog and wind and enjoys some of the sunniest, most pleasant weather in the city.
Last but not least, the Mission is beloved for inventing the Mission burrito, San Francisco's preferred style of burrito stuffed with rice, beans, meat, salsa, cheese, sour cream, guacamole and lettuce.
Castro
The Castro District or "the Castro" is known as San Francisco's most prominent gay neighborhood and a worldwide epicenter of LGBTQ activism and culture. Its most notable landmark, the Castro Theatre, has been an enduring symbol of the neighborhood since 1922. Along Castro Street are several famous gay bars, cafes, restaurants and other gay-friendly establishments. The district is steeped in history, LGBTQ and otherwise, evident along the Rainbow Honor Walk and its twenty plaques acknowledging the neighborhood's storied past. Situated between 19th and Market streets, the Walk covers pre-1776 to 2003, including ten significant events associated with the Castro's LGBTQ community. It also contains the Rainbow Crosswalk, a popular tourist attraction and photo spot.
Richmond
The residential Richmond District, directly north of Golden Gate Park, is made up of five sub-districts including Inner, Outer and Central Richmond. Although it experiences heavy fog, the Richmond boasts proximity to Golden Gate Park, Lincoln Park, Land's End, Mountain Lake Park and other green spaces. Peaceful, safe and serene, it's a popular neighborhood among families.
Sunset
Just south of Golden Gate Park is the Sunset District, which is also divided into Inner, Central and Outer Sunset sub-districts. This neighborhood is similarly known for its parks and recreational areas, such as Golden Gate Park, Lake Merced, several golf courses and the San Francisco Zoo. Head to the Inner Sunset for a wide variety of ethnic restaurants.
Twin Peaks
Located in the geographic center of the city, Twin Peaks encompasses San Francisco's two highest hills, each with an elevation of about 925 feet and respectively named Eureka and Noe. Residents enjoy breathtaking vistas of the entire city and Bay, plus quiet seclusion from the hustle and bustle below. A drive or hike along Twin Peaks Boulevard, which makes a figure eight around the two hills, is a great way to take in the views.
Dogpatch
Half industrial, half residential, Dogpatch is one of San Francisco's most up-and-coming neighborhoods. Once a shipbuilding hub dating back to the 1800s, the area was a longtime haven for the working class, but the dot-com era of the 1990s drew more upper middle class professionals as they were priced out of the nearby Mission and Potrero Hill neighborhoods. Today, Dogpatch retains an industrial vibe but with a hint of modern chic, with many large warehouses converted into residential lofts, art galleries and boutiques. Third Street has become a hit destination for farm-to-table restaurants, craft breweries and wine bars, plus the Museum of Craft and Design.
Potrero Hill
Potrero Hill is another heavily residential area of San Francisco. It's known for its views of the San Francisco Bay and city skyline, sunny weather and abundant transportation options, including two freeways and a Caltrain station. Like Dogpatch, Potrero Hill was largely a working-class neighborhood until gentrification in the 1990s brought more upper-middle-class families.
Explore more of San Francisco
The aforementioned neighborhoods are only a few of many, and there's much more to San Francisco than meets the eye. Dig into our comprehensive and growing collection of San Francisco-related blogs, including topics such as:
Moving to San Francisco? Here's Everything You Need to Know
Sightseeing in San Francisco: What to Do and Where to Go
Getting Around San Francisco
Living in San Francisco: The Pros and Cons