Do you dream of Pacific Ocean views, cable cars, hilly streets, beautiful bridges and sourdough bread? If so, you probably have your eyes on San Francisco, California. Whether you live nearby or all the way across the country, relocating to the City by the Bay is a significant undertaking. You'll want to know where to live, how much money to budget, what to pack, etc. — in addition to moving logistics and other concerns. The smoother your transition, the sooner you'll feel at home in your new city.
Here's your comprehensive guide to moving to San Francisco and making all of your Bay Area dreams come true.
Moving Costs and Logistics
Your moving costs and logistics will depend on whether you use a moving company or do it yourself. Doing it yourself will require a vehicle and/or a lot of shipping costs. Loading your belongings will require significant time and labor, so have your friends and family lend you a hand — but be sure to reward them somehow when they're done!
TIP: If you'll be making your final landing in San Francisco by air, bring as much of your belongings as possible with you on the plane. The checked baggage and excess weight fees will most likely cost less than shipping the items.
Transporting furniture on your own can also be tricky, so you may want to consider ditching it and acquiring new or used furniture once you arrive in San Francisco. Websites and apps like Craigslist, OfferUp and letgo are popular for both buying and selling furniture.
Using a moving company can make your transition a lot easier, justifying any extra cost compared to doing it yourself. If you're looking for a lower-cost alternative, consider using a moving container or "pod" — a trailer you pack yourself and a moving company transports for you. PODS, U-Pack and SMARTBOX are popular choices.
San Francisco's Cost of Housing
You're probably aware that San Francisco is one of the most expensive cities in the United States, but how expensive is it?
RENTCafé provides regularly updated statistics on San Francisco rental market trends, including averages, ranges and breakdowns by neighborhood. To provide an idea, as of January 2019, average rent for an apartment in San Francisco was $3,609.
Speaking of neighborhood, your monthly rent will be largely determined by which San Francisco neighborhood you choose to call home. As of fall 2018, the median monthly rent for a one-bedroom apartment ranged from a low of $2,400 in the Outer Sunset to a high of $3,795 in South Beach.
To cut down housing costs, most San Francisco residents find one or more roommates to share the rent with. You'll also save money by living in a more residential neighborhood located farther from Downtown. You may end up with a longer commute to work, but it's up to you to decide if the trade off is worth it. Jump to the Choosing a Neighborhood section for more on San Francisco's inner workings.
Transportation
Getting around San Francisco is largely a matter of knowing the modes of transportation available to you — and there are a few.
The San Francisco Municipal Railway, nicknamed "Muni," provides bus and light rail service 365 days a year within the city, connecting with several other regional transportation services. Muni also operates the city's historic cable cars and streetcars, which function both as commute options and tourist attractions.
Muni fares are $2.75 for adults, but you can save 25 cents per ride by purchasing your fare before boarding. Use the MuniMobile app or buy a Clipper Card, available at Muni ticket machines and select retailers. You may also pay cash as you board, but exact change is required.
Bay Area Rapid Transit, or BART, provides high-speed rail service both within San Francisco and throughout the greater Bay Area. Caltrain also runs within San Francisco, connecting the city to the neighboring counties of San Mateo and Santa Clara.
Trains and buses not your thing? San Francisco takes great pride in its robust bike lanes and being one of the most bike-friendly cities in the world. Rent one from the city's public bike share system, Ford GoBike, or grab a JUMP electric bike and whiz through the streets. And it's not just bicycles you see in the bike lane — electric scooters from brands like Bird, Lime and Spin have become a popular mode of transport. The SFMTA has even rolled out a public scooter share program.
If you'll be using a car, beware that parking and gas will make up the bulk of your transportation costs. Free parking can be found outside the city center, but regular access to downtown parking will cost you $200-$400 a month. Gas prices in San Francisco also tend to be 30-40% higher than the national average.
Choosing a Neighborhood
Where you choose to live within San Francisco is nearly as important as your decision to move to SF in the first place. Although San Francisco proper is only 46.89 square miles in size, the city is divided into over 100 neighborhoods and micro-neighborhoods.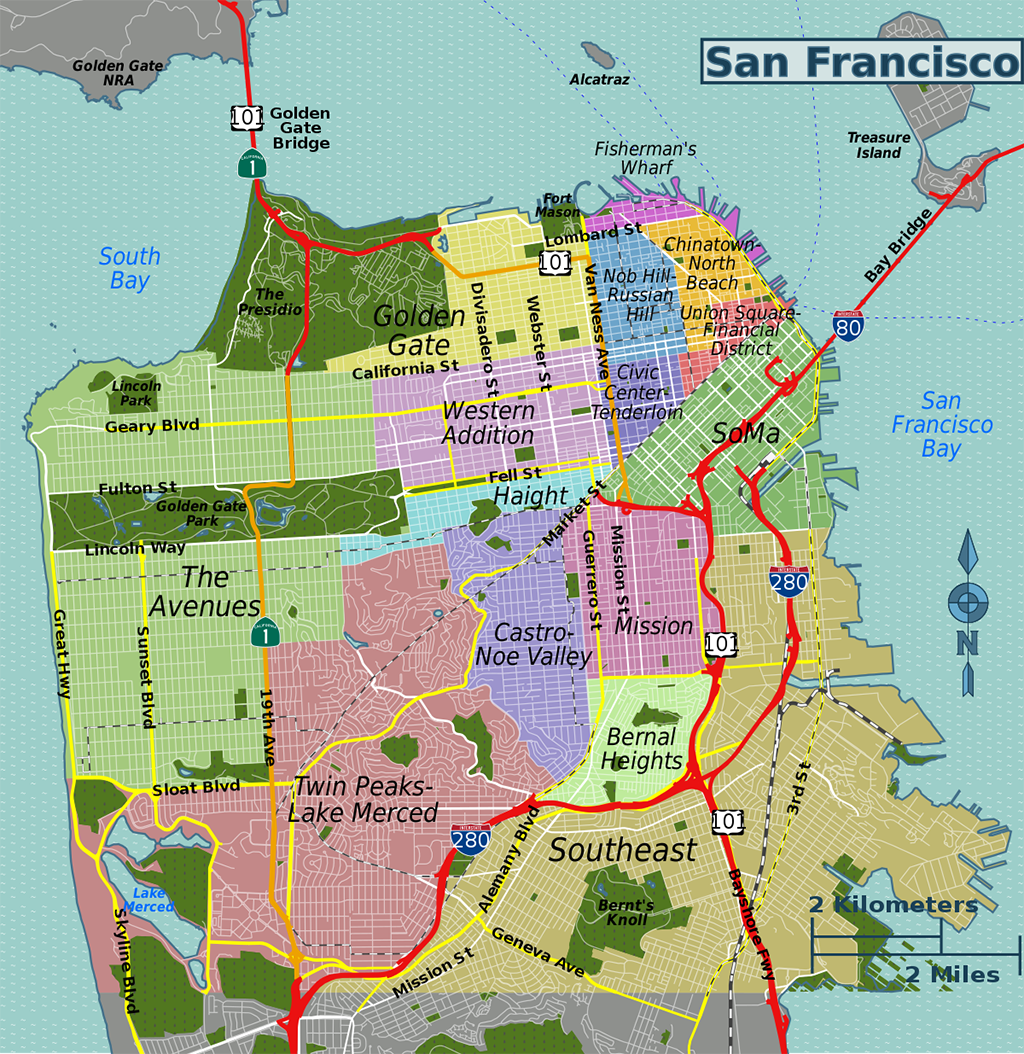 By Peter Fitzgerald, OpenStreetMap [2] – OpenStreetMap [1], CC BY-SA 2.0, Link
Like in many major cities, San Francisco's neighborhoods each have their own personality, vibe, history, landscape, establishments and other characteristics that attract certain types of dwellers. Do your homework before choosing one, taking the following into consideration:
Median housing cost
Distance from your place of work
Public transportation options – Check the SF Muni map
Parking options and availability
Walkability – Check the neighborhood's Walk Score
Hills – San Francisco is known for its rolling hills. Some neighborhoods are hillier than others, making walking more difficult.
Fog – SF is nicknamed "Fog City" for a reason. Certain neighborhoods experience more fog than others, and it's not unusual for one area of the city to be foggy while another is sunny. The fog mostly affects the western half of the city, creating a division locals call the "fog line."
Parks and outdoor space
Establishments – What kinds of restaurants, bars and coffee shops are found in the neighborhood? Is there a grocery store, convenience store, bank, gym, mall, etc.?
San Francisco's Most Popular Neighborhoods
Here are some of San Francisco's most popular neighborhoods and what you should know about them.
Mission District
Also referred to as The Mission, this sunny neighborhood combines rich Latino history with modern hipster vibes. Although the tech boom brought on heavy gentrification, the district has managed to stay true to its roots.
SoMa
Short for South of Market, SoMa is a sprawling mix of warehouses, cultural centers, hip restaurants, chic nightlife, luxury apartments and high-rise office buildings. The neighborhood is home to several San Francisco institutions such as the SF MOMA, Yerba Buena Gardens, Moscone Center and AT&T Park, as well as major tech players like Salesforce, Airbnb, Uber, LinkedIn, Dropbox and Yelp.
Hayes Valley
This fashionable district is dotted with trendy fashion boutiques, funky art galleries, high-end design shops, acclaimed restaurants and swanky nightlife. Despite gentrification, the neighborhood has retained its character and sense of community, with many long-standing establishments still serving cheap food and cocktails.
Nob Hill
One of San Francisco's signature neighborhoods, Nob Hill is renowned for its affluence, city landmarks, Victorian architecture, high-end hotels and iconic cable cars. As the name suggests, the neighborhood is situated on one of San Francisco's 44 hills, providing stellar views of the city and the San Francisco Bay.
Castro District
The Castro is widely known as one of San Francisco's first gay neighborhoods and a prominent symbol of LGBT culture to this day. Today, the Castro remains one of the city's most popular and vibrant neighborhoods, with bars, shops, parades, festivals and events attracting residents from all over the city, no matter their sexuality.
The Haight
Also called Haight-Ashbury, this eccentric district is named for the intersection of Haight and Ashbury streets — an important place and symbol of the mid-1960s hippie counterculture movement. This history is felt today in the Haight's colorful architecture, vintage shops, organic cafes and quirky restaurants.
Cow Hollow
What was once cow grazing land and a fishermen's settlement is now a popular San Francisco destination for restaurants, boutique shopping, health spas and wellness centers along Union Street.
Dogpatch
Half industrial, half residential, Dogpatch is a rapidly transforming neighborhood now known for its converted warehouses, farm-to-table restaurants and convenience to public transportation.
Twin Peaks
Located in the heart of the city, Twin Peaks encompasses San Francisco's two highest hills, providing breathtaking views and quiet seclusion from the hustle and bustle below.
Marina District
This waterfront neighborhood has it all, from Golden Gate Bridge views to brunch spots to hilly green space. The Palace of Fine Arts is a readily recognized landmark of the district.
Richmond District
Made up of five sub-districts including Inner, Outer and Central Richmond, the Richmond District is known for its proximity to Golden Gate Park, Lincoln Park, Land's End, Mountain Lake Park and other green spaces. Peaceful, safe and serene, the neighborhood is popular among families.
Sunset District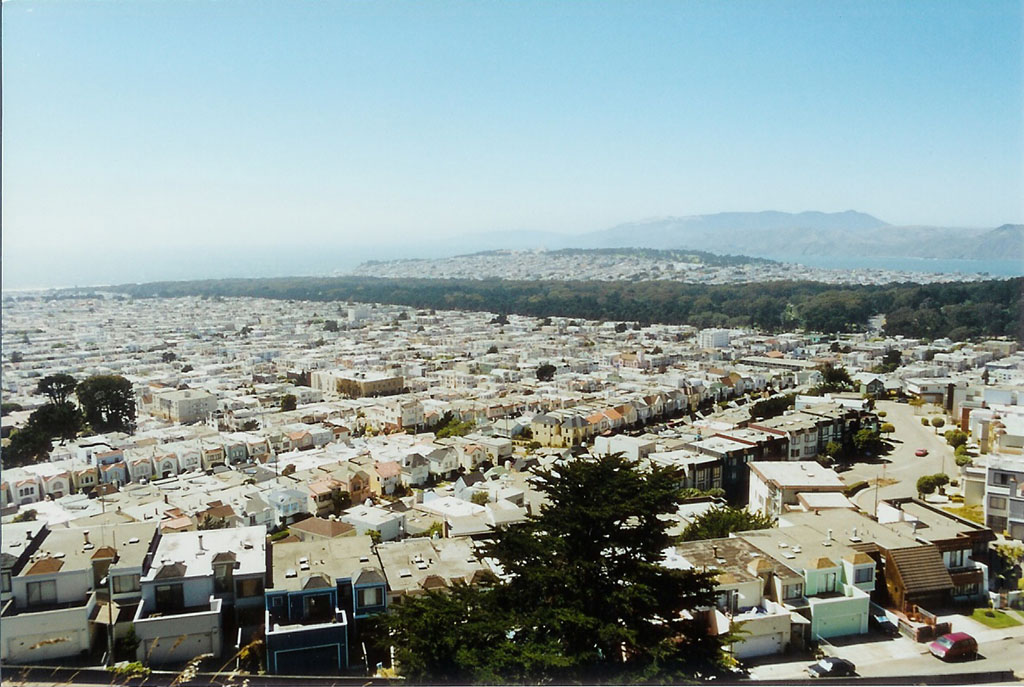 By No machine-readable author provided. Stilfehler assumed (based on copyright claims). – No machine-readable source provided. Own work assumed (based on copyright claims)., Public Domain, Link
Divided into the Inner, Central and Outer Sunset, this large SF neighborhood is also known for its parks and recreational areas, such as Lake Merced, several golf courses and the San Francisco Zoo. Head to the Inner Sunset for a staggering variety of ethnic restaurants.
North Beach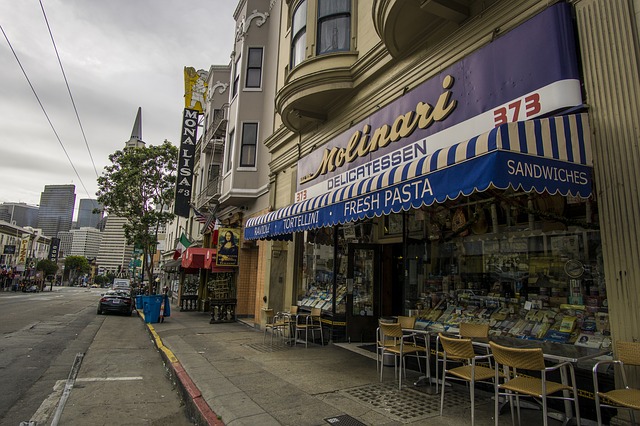 Beloved by locals and tourists alike, North Beach is San Francisco's Little Italy.
Russian Hill

由Bernard Gagnon – 自己的作品,CC BY-SA 3.0,链接
Yet another elevated neighborhood, Russian Hill is charming, intimate and, yes, hilly. In fact, the steepest portion of Lombard Street — "the crookedest street in the world," with eight hairpin turns at a 27% grade — is found in Russian Hill.
Western Addition

Public Domain, Link
This casual, cool neighborhood was once the epicenter of San Francisco's jazz scene. Its Victorian homes are some of the oldest in the city, and many of the bars and clubs still pay homage to the nabe's musical roots.
Finding an Apartment in San Francisco
The sooner you can lock down an apartment before your move, the better. However in most cases you won't be able to sign a lease or sub-lease agreement until, at most, 30 days prior to your move-in date. It's still a good idea to browse listings and get a feel for San Francisco's rental market before that point, so that you're well prepared when it comes time to make a final decision.
You may prefer to take a trip to San Francisco to see apartments in person, but it's not absolutely necessary. Many properties include virtual tours on their website, and most landlords, brokers and would-be roommates are happy to give a Skype or FaceTime tour of a unit.
Being a hotbed for technology, San Francisco has a wealth of apps and websites to aid you in your search for an apartment. Popular examples include:
Craigslist
Zumper
Lovely
HotPads
Zillow
Apartments.com
Apartment List
Renthop
Use your preferred criteria when it comes to narrowing down apartments, taking into account things like proximity to work, public transportation access, nearby establishments, elevator availability, laundry facilities, noise, pet-friendliness, etc. Don't worry so much about central heating and AC, as the weather is mild enough to do without it. Prioritize your preferences in order of importance to you, as you're unlikely to find an apartment that ticks every single box.
TIP: Never underestimate the power of networking, either online or in person. Create a social media post and put the word out to your friends and family that you're looking for a place in San Francisco. You never know who will come through and help you out.
What to Expect: San Francisco Weather
San Francisco's weather is generally mild, with a few caveats. It can get chillier than you may expect, and temperatures can be wide-ranging and unpredictable any time of year. Additionally, as a city made up of microclimates, one neighborhood can be warm while another is chilly. Cool winds are also common. A good rule of thumb frequently espoused by locals is to dress in layers and always carry a light jacket or sweater.
Summers are cooler than they are in other parts of the country — in fact, Mark Twain is believed to have once said "The coldest winter I ever saw was the summer I spent in San Francisco." Summer rain and humidity are extremely rare. Winters are moist and rainy, but temperatures are mild. Spring and fall are reliable times of year for pleasant, dry, sunny weather, although an 80-degree day can surprise you any month of the year. You can also, of course, expect a lot of fog all year round.
What to Expect: San Francisco Demographics
People who relocate to San Francisco are often surprised by how many young adults there are compared to children, teenagers and older individuals. The tech boom has attracted hordes of young adults between the ages of 20 and 39, who make up San Francisco's largest age group. Unsurprisingly, the high cost of living has priced out many older residents and families with children.
Speaking of children, San Francisco is commonly said to have more dogs than children. The veracity of this claim is debated, but we do know that SF consistently ranks low among major cities for percentage of children in the population. It ranks high, however, for dog-friendliness. An abundance of dog grooming facilities, doggy daycare, dog parks and other canine accommodations are easily found in San Francisco, in addition to dog-friendly apartments, hotels, shopping centers and even restaurants. The city's walkability and mild weather don't hurt either.
What to Expect – San Francisco from A to Z
A is for Alcatraz. It's a tourist attraction, but locals love it too.
B is for burritos. Tourists may picture sourdough bread, Dungeness crab and fine California wine when they think of San Francisco cuisine, but locals take much pride in the city's burritos. Mission-style burritos, originated in the Mission District, are the most coveted variety, characterized by their generous size. Expect heaps of rice, beans and meat in a steamed flour tortilla.
C is for cash-only. Many bars, coffee shops and other small establishments don't take cards in San Francisco, so be prepared to carry cash on you at all times.
D is for dogs. As previously mentioned, San Francisco loves its canine companions.
E is for expensive. From housing costs to cups of coffee, San Franciscans pay a premium to live in the heart of the Bay Area.
F is for fog. In fact, San Francisco's fog is nicknamed "Karl" and has its own Instagram and Twitter accounts.
G is for green. San Francisco is committed to minimizing its impact on the environment. It's not unusual for an establishment to have compost and recycling bins but no regular trash cans.
H is for homelessness. The mild weather attracts a large homeless population to the city.
I is for innovation. Many tech companies we now know and love were born in San Francisco, with more and more great ideas being developed every day.
J is for the J line. This Muni light rail line serves the Financial District, Civic Center, Castro, Mission and other major neighborhoods, as well as Dolores Park, the most-visited park in San Francisco.
K is for kite flying in Crissy Field. The former airfield turned public recreational area is a popular spot for flying kites on a windy day.
L is for lack of late-night eats. Many restaurants close by 10pm, which is early compared to other major cities like New York and Los Angeles. Late-night eats are out there, but it will take some searching.
M is for museums. There are tons of them, especially in the neighborhood of SoMa.
N is for nicknames. SF is fine, San Fran is controversial, but never call it Frisco.
O is for Oakland. Just to the east of San Francisco and easily accessible via BART, the city of Oakland is quickly becoming a haven for those who work in SF but can no longer afford to live there. For this reason, it's sometimes called "the Brooklyn of San Francisco."
P is for parks. There are over 200 parks in San Francisco for the public to enjoy. The largest one, Golden Gate Park, takes up 20% more land mass than New York's Central Park.
Q is for quakes. They can strike at any time, and the city famously survived major ones in 1906 and 1989. Fortunately, city and state building codes are strictly enforced.
R is for recreation. From hiking the Marin Headlands to playing Frisbee in the park, San Franciscans love to go outside and get moving.
S is for sea lions. Watching them sunbathe at Pier 39 is a popular activity.
T is for transplants. Like other major cities, many residents of San Francisco lived elsewhere before landing in the Bay Area.
U is for Uber. Founded and headquartered in San Francisco, Uber is a popular way of getting around the city and has made taxis in the area almost obsolete.
V is for Victorians. The San Francisco landscape would be unrecognizable without the presence of these historic, affluent styles of homes. The famous "Painted Ladies," a row of Victorian houses across from Alamo Square Park painted in bright colors, are a popular tourist attraction and photo opportunity.
W is for wellness. Smoking is taboo, bikes are favored over cars, fitness studios are everywhere and outdoor recreation is a popular way to pass time.
X is for Exploratorium. This museum of science, art and human perception is a favorite among children and adults alike.
Y is for youth. The median age in San Francisco hovers around 38.
Z is for zoo. The San Francisco Zoo, located in the Sunset District, houses over 1,000 animals representing over 250 species.
Relocating to San Francisco? Consider a Fully Furnished Temporary Apartment
Moving is stressful enough as is, especially with the need to find a place to live. Furnished Quarters offers move-in ready, short-term apartments in San Francisco to smooth your transition and make you feel at home right away. Search our San Francisco furnished apartments today.