NYC Neighborhoods to Know When Relocating to New York
---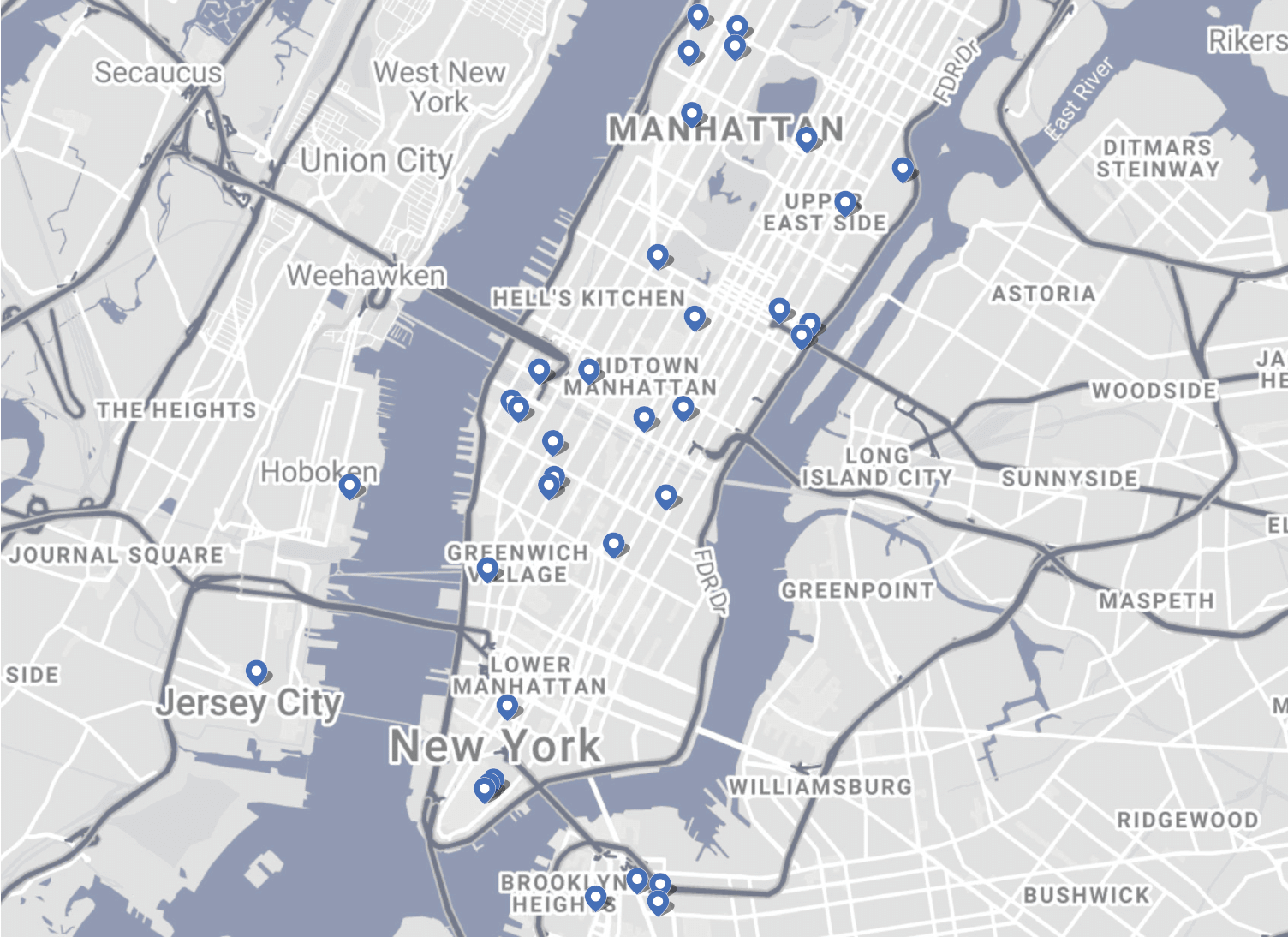 Moving to New York? An insider's guide to your new playground
Whether you're moving for work or just want to live in the center of the universe, one of the first things you'll want to do is get to know New York City's neighborhoods. NYC is diverse not just in its demographics but also its many neighborhoods, each having its own unique appeal and reputation. In fact, within the five boroughs there are over 300 distinct neighborhoods to choose from – and choosing wisely will largely define your experience living in the Big Apple.
Whatever you're into – art galleries, nightlife, spending time outdoors, ethnic eateries, etc. – there's a 'hood for everyone. Here's a local insider's guide to help you get familiar with some of NYC's most essential neighborhoods.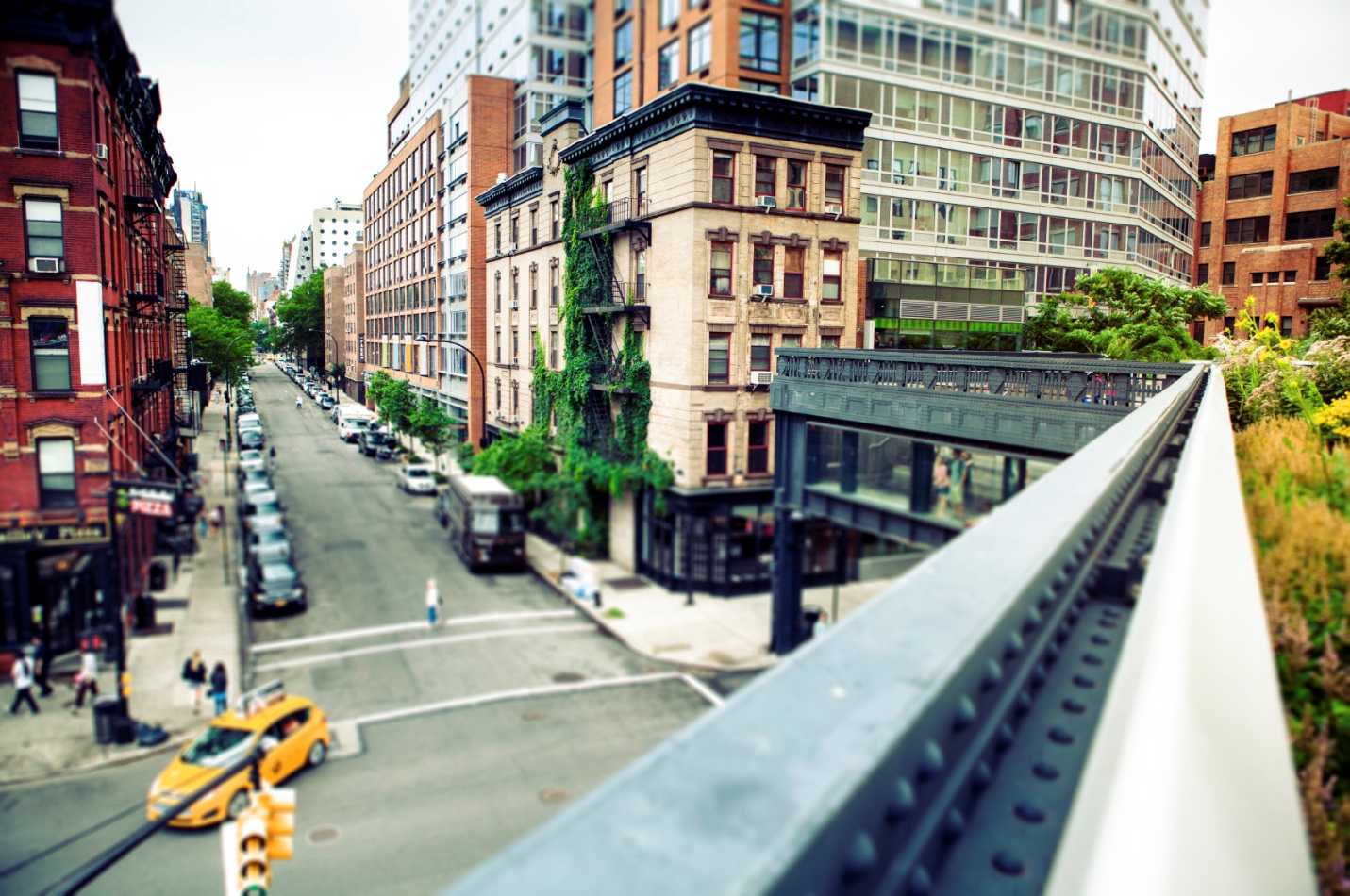 Chelsea is mostly known for its art galleries and The High Line, an elevated, landscaped walkway built on what were once New York Central Railroad tracks. Chelsea Market, a favorite among locals and tourists alike, offers unique eateries and shops. Along the Hudson River are several waterfront parks and walkways, as well as Chelsea Piers, a recreational hub popular for its driving range, ice skating and bowling. Chelsea also has a wide variety of high-end shops and is a sprawling hub for posh nightlife and restaurants.
One of the city's oldest and most storied neighborhoods, Greenwich Village is affectionately known by locals as "the Village." The charming nabe is known for its tree-lined streets of 19th-century rowhouses, and was an important haven for artists, bohemians and counterculture movements in the 20th century. Upon the Stonewall uprising in 1969, the Village also became the birthplace of the modern LGBTQ rights movement. The western portion of the neighborhood, aptly named the West Village, is one of NYC's most prominent LGBTQ neighborhoods to this day.
Today, the Village is beloved for its Italian restaurants, Washington Square Park, playhouses and educational institutions like New York University.
West Village, Manhattan
The West Village is one of Manhattan's most desirable neighborhoods, and its housing and rent prices reflect that. Despite the price tag, the area has a very local, "neighborhood-y" feel to it, with many families and long-time residents. The cobblestone streets, historic architecture and quaint cafes with sidewalk seating will make you feel like you've been transported to an old European town. On the flip side, you may rub elbows with celebrity residents like Hugh Jackman, Nicole Kidman, Will Ferrell or Scarlett Johansson. In terms of its layout, the West Village diverges from Manhattan's easy-to-navigate grid system, so have your Google Maps ready.
East Village, Manhattan
The East Village has quickly become one of Manhattan's most up-and-coming areas. Hordes of young professionals have moved in to take advantage of the relatively affordable rents (for now, at least!) and hit the thriving bar and restaurant scene, where new establishments open up on the regular. On weekends, you can expect lots of 20-somethings going bar-hopping, and a little rowdiness. The neighborhood is divided into three subsections: Alphabet City (in reference to Avenues A through D to the east of 1st Avenue), Little Ukraine and the Bowery.
Historically, the East Village has been home to edgy creatives and is believed to be the birthplace of punk rock. Although still a little rough around the edges, gentrification is giving the area a facelift. The much improved Tompkins Square Park, once an unsafe no-go zone, is now the neighborhood's proud focal point.
The residential, family-oriented Upper East Side is renowned for its peace and quiet, luxury high-rise apartments and world-class shopping. It's also home to several of New York City's most famous museums, including the Met and the Guggenheim, many of which are located along a portion of Fifth Avenue nicknamed Museum Mile. Central Park makes up the western border of the neighborhood. A popular Saturday Night Live sketch starring Leslie Jones poked fun at stereotypes surrounding the UES in 2019.
Just across the park from the Upper East Side, the Upper West Side is similarly residential but offers a different demographic and vibe. It's a bit younger and livelier, thanks to the buzzing restaurant and nightlife scene along Amsterdam Avenue.
The UWS is also blessed with not one but two scenic parks: Central Park to the east and Riverside Park along the Hudson River to the west. Culture hounds can enjoy the presence of Columbia University, Juilliard, the Museum of Natural History, Lincoln Center and the Metropolitan Opera.
Harlem, Manhattan
Harlem is Manhattan's most prominent African-American neighborhood, nicknamed the "Black mecca." It's perhaps most well known for the Harlem Renaissance, an African-American cultural movement of the 1920s and 30s, which transformed this Upper Manhattan neighborhood forever. The spirit of this movement still lingers today, as you'll find many intimate jazz clubs, amazing soul food restaurants (including the world-famous Sylvia's), beautiful churches and architecture, Black history tributes and rich culture everywhere. The eastern portion is known as Spanish Harlem or "el barrio," for its large Puerto Rican population. Although South Harlem has undergone minor gentrification, Harlem has largely resisted gentrification efforts and retained the neighborhood's character and demographics over the years.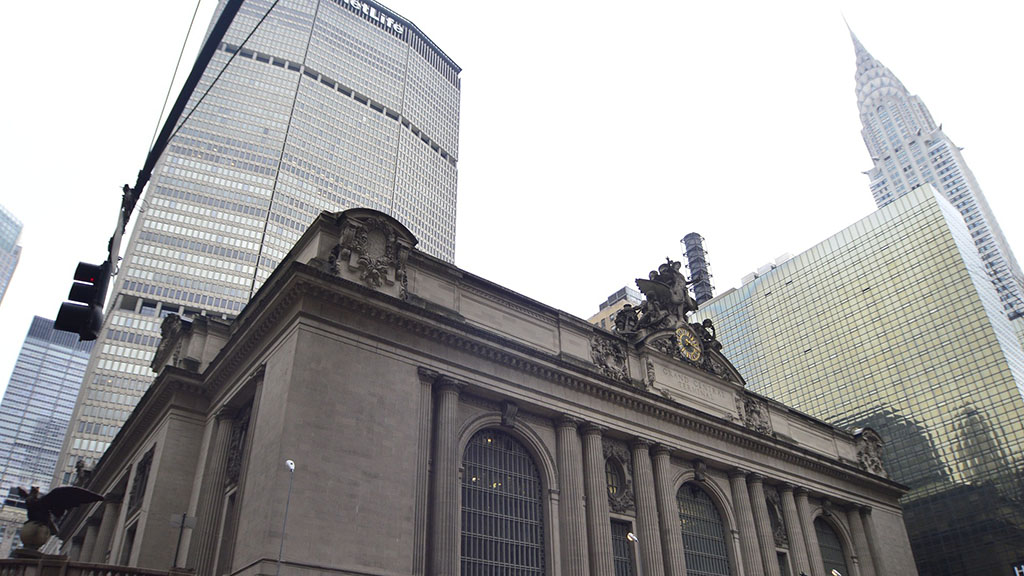 If you're looking for a centralized location without the pandemonium of Midtown proper, Midtown East is the spot for you. It's often broken down into mini-neighborhoods, such as Sutton Place, Turtle Bay, Tudor City and Murray Hill.
After 9/11 when many of the city's financial sector employers moved offices from Lower Manhattan to Midtown, finance professionals began moving to Midtown East to be close to work. Consequently, Midtown East is now a popular neighborhood among recent college graduates and young finance workers. In Murray Hill in particular, this reputation is strong, and their "work hard, play hard" mentality is seen at the many bars and restaurants along Second and Third Avenue.
The famous Roosevelt Island Tramway is found at the northern boundary of the neighborhood, providing aerial transportation to Roosevelt Island. Other attractions include Grand Central Terminal, the Chrysler Building and Bryant Park.
Hudson Yards is Manhattan's newest neighborhood, thanks to a large-scale redevelopment program decades in the making. Once an underused area containing little more than rail yards and the Jacob K. Javits Convention Center, Hudson Yards is now filled with skyscrapers, high-end shopping, destination dining and a brand new subway station. Phase 1 of the project opened to the public in early 2019, while Phase 2 is expected to be completed by 2024.
The Shops and Restaurants at Hudson Yards house over 100 shops and 25 restaurants, including the work of celebrity chefs like Thomas Keller and David Chang. Among the retail shops you'll find NYC's first and only Neiman Marcus.
The neighborhood's centerpiece and NYC's newest landmark is Vessel, rising up 16 stories and consisting of 154 flights of stairs, 2,500 steps and 80 landings. Next to it is The Shed, dubbed "A new arts center for the 21st Century."
SoHo, Manhattan
Short for South of Houston – that's Houston Street, pronounced HOW-stən, not like the Texas city – SoHo first rose to prominence as artists moved into the neighborhood's many (then) affordable lofts and set up shop. Now, SoHo is known for its shopping, offering a variety of both affordable and luxury stores for clothing, shoes, accessories, furniture and more. You'll also find art galleries, but fewer artists as gentrification has rendered the neighborhood much less affordable. In fact, the neighborhood is now mostly commercial space, and the few residential spaces are luxury, multimillion-dollar lofts.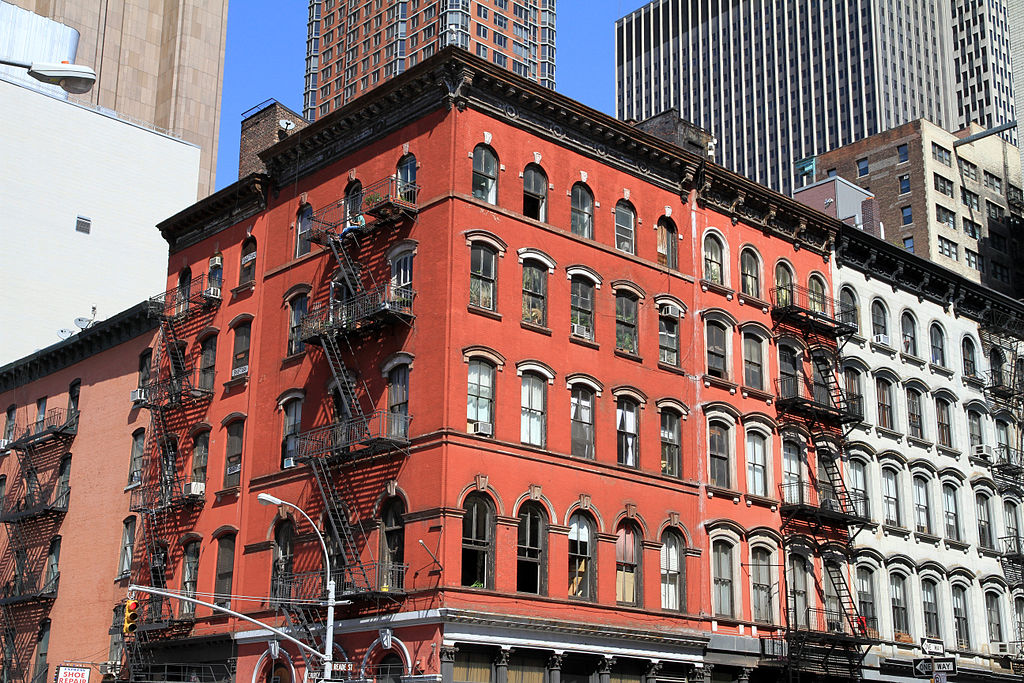 By Ingfbruno – Own work, CC BY-SA 3.0, Link
Just southwest of SoHo, Tribeca consistently tops lists of New York City's most expensive neighborhoods. The name is an abbreviation of "Triangle Below Canal Street," although the neighborhood's boundaries actually form a trapezoid.
In the early 21st century Tribeca became Manhattan's most fashionable and sought-after neighborhood, with wealthy celebrities and entrepreneurs occupying its ultra-luxury apartments and lofts. Although upscale art galleries, chic boutiques and world-class restaurants line the blocks, charming cobblestone streets, parks and playgrounds give the neighborhood some humility.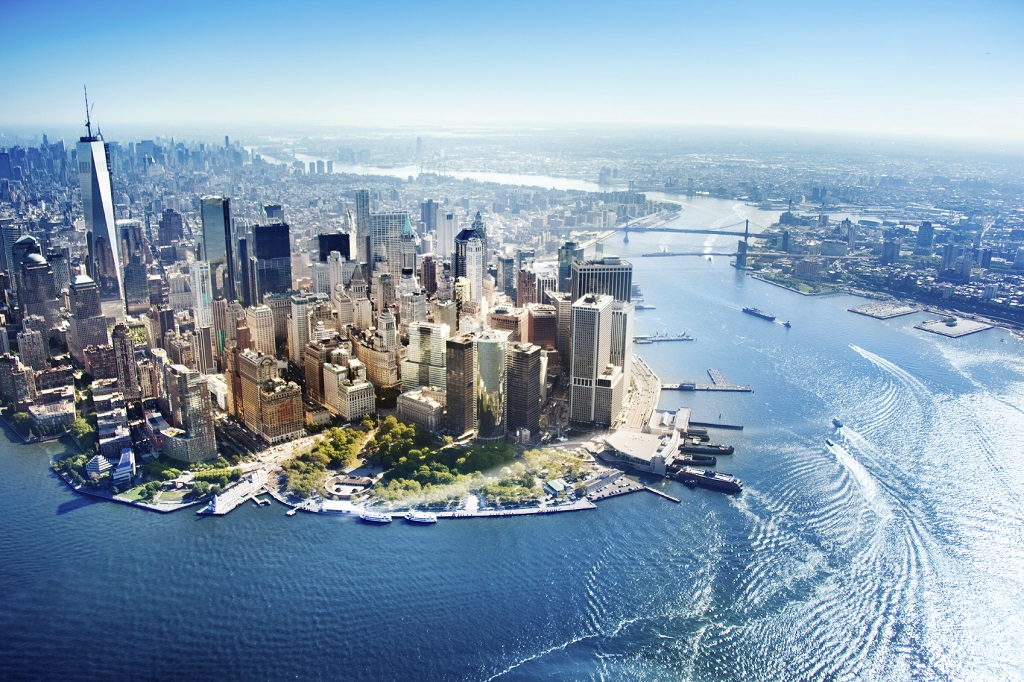 Although NYC's Financial District is the leading financial center of the world, locally it's known as a quiet neighborhood, somewhat removed from the typical hustle-and-bustle of downtown living. On weekends and holidays, however, you'll encounter many tourists visiting historical sites and points of interest like Wall Street, One World Trade, the National September 11 Memorial & Museum, the Brooklyn Bridge, Ellis Island and the Statue of Liberty. Want to be where the locals are? Check out the newly rebranded Seaport District, grab beers on historic Stone Street, shop and dine at Brookfield Place or board a ferry to nearby Governors Island.
Lower East Side, Manhattan
The Lower East Side or "LES" is the epitome of downtown Manhattan: young, artsy and eclectic vibes that breathe new life into the city every day. You'll find gritty, graffiti'd alleys mixed with boutique shops and buzzworthy restaurants. When the sun goes down, this part of town draws a crowd that favors trendy bars, live music and outstanding food. Speaking of food, you'll find some of NYC's most inventive, diverse food options in this neighborhood. If you're not one for noise and rowdiness, avoid "Hell Square," a six-block area on Ludlow and Orchard Streets between Houston and Delancey Streets known for its high concentration of bars and young, rambunctious patrons. Don't forget to stop by Katz's Deli, where you can get a world-famous pastrami sandwich and relive the classic "I'll have what she's having" scene from When Harry Met Sally.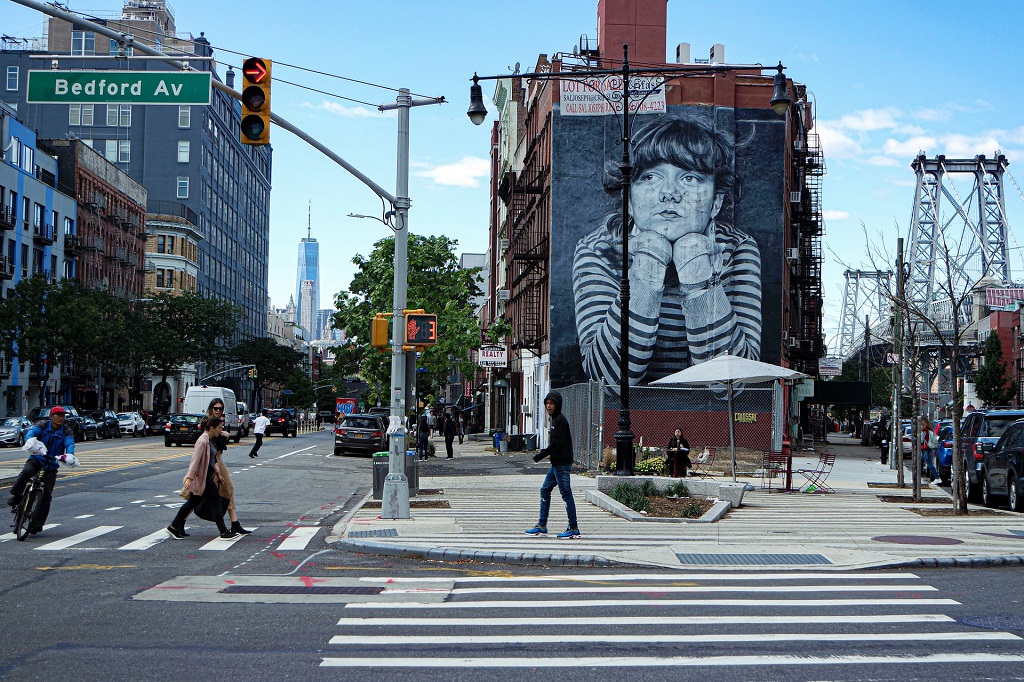 No other Brooklyn neighborhood has undergone such a stark and rapid transformation as Williamsburg. What was once a gritty area with sky-high crime rates is now home to luxury high-rise apartment buildings, swanky hotels, bougie brunch spots, Whole Foods, Sephora, Lululemon and an Apple Store. Its gentrification began in the late 1990s, at first attracting hipsters on a budget to its affordable apartments. Over the years it notoriously became the most expensive place to live in Brooklyn, but COVID has brought rents down to a more reasonable level.
Despite all the change, the neighborhood has a rich history with Hasidic Jewish, Italian, Polish, Puerto Rican and Dominican roots. For a taste of modern Williamsburg, visit the Wythe Hotel's rooftop bar with stellar Manhattan views, or explore Domino Park, a waterfront public park completed in 2018 on the site of the former Domino Sugar Refinery. For a more old-school experience, visit the southern portion of the neighborhood and have a steak dinner at Peter Luger.
Walk the Brooklyn Bridge from Lower Manhattan into Brooklyn, and you'll land in Downtown Brooklyn. It's the borough's central hub for almost everything, from business to retail to education. You'll find lots of young professionals and mixed-use development – buildings with a mix of apartments, retail, entertainment and dining under one roof. There's no easier commute into Manhattan, as over 15 subway lines have stops in the neighborhood.
DUMBO, Brooklyn
An acronym for Down Under the Manhattan Bridge Overpass, DUMBO has become one of Brooklyn's trendiest neighborhoods and contains some of its most expensive real estate. With the Manhattan Bridge and Brooklyn Bridge serving as the backdrop, it's hard to beat the picturesque views. Speaking of which, one of the world's most popular Instagram photo ops is found in DUMBO, on the corner of Washington and Water Streets (pictured above).
Visit Brooklyn Bridge Park for picnics, movie screenings and fitness classes, or the Archway under the Manhattan Bridge for performances, street fairs, food vendors and more. For a memorable meal with a view, try to snag an outdoor table at Cecconi's.
Park Slope, Brooklyn
Park Slope is known as Brooklyn's foremost family neighborhood. The public and private schools, parks, safety and beautiful brownstones make it one of NYC's most desirable neighborhoods for young families. With proximity to Prospect Park, the Brooklyn Academy of Music, the Brooklyn Botanic Garden, the Brooklyn Museum and the Brooklyn Conservatory of Music, kids can get plenty of culture and outdoor recreation. Parents love the many restaurants and bars along Seventh Avenue for date nights.
Astoria, Queens
Located in Queens, Astoria has a reputation for being laid back and multicultural. Due to its affordability and proximity to Midtown Manhattan, the neighborhood has attracted many young professionals over the years and become one of the most popular districts in Queens. With its heavy Greek-American history, Astoria is known for its Greek tavernas and cafes, but also proudly boasts of all kinds of ethnic eateries and trendy spots that can't be found anywhere else in the city. Astoria is also known for its beer gardens (including the oldest one in New York City, Bohemian Hall), Socrates Sculpture Park, the Museum of the Moving Image, the Hell Gate Bridge and the lovely Astoria Park, which includes a large public pool.
Long Island City, Queens
Also in Queens, Long Island City or "LIC" is filled with new residential and commercial developments. Although it's by far the most gentrified neighborhood in Queens, it's considered more affordable than its Brooklyn counterparts. It offers an easy commute to the city (just one or two subway stops) and is seen as a solid alternative to Williamsburg, Brooklyn. It has three subsections: Dutch Kills, Blissville and Hunters Point. LIC also has a vibrant art scene, being home to MoMA PS1 and multiple sculpture gardens.
For a smooth transition into the city, consider temporary housing
If you're relocating to New York or would like to "try out" a neighborhood before deciding where to live long-term, renting a furnished short-term apartment is the perfect solution. Check out our Manhattan listings, many of which are located in the aforementioned neighborhoods.