New York may be a sprawling metropolis, but when you look at it closely, it's more of a collection of neighborhoods than a homogeneous city. Each neighborhood has its own character, history, reputation, look and feel, demographic and points of interest.
Some are very old, like the Financial District or Greenwich Village. Others have transformed and become newer hotspots, like Tribeca and Williamsburg. And some are brand new altogether. Enter Hudson Yards — NYC's newest neighborhood and destination to live, shop, work and dine.
Here are 10 things to know about Hudson Yards, located in Manhattan just southwest of Midtown.
1. It was once little more than rail yards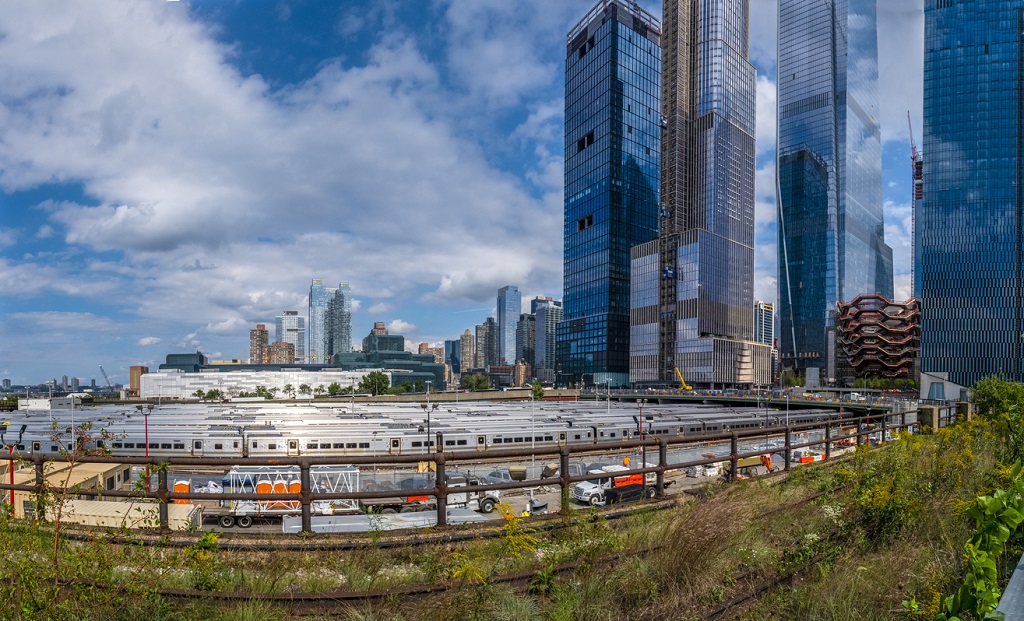 Much of the Hudson Yards development has been built on a platform over the West Side Yard, a storage yard for unused Long Island Rail Road trains. It's one of the main reasons this section of Manhattan wasn't much of a destination for a long time. Aside from the Jacob K. Javits Convention Center and the starting point for the High Line, there wasn't much drawing people to the area.
2. It's the product of a large-scale redevelopment project decades in the making
Urban planners had been wanting to develop the Hudson Yards area since the mid-20th century. Initial proposals included one by prominent real estate developer William Zeckendorf in the 1950s, a housing development considered by U.S. Steel in the 1960s and a 1963 plan announced by then Mayor Robert F. Wagner Jr. There were even plans to make it the site of an Olympic stadium as part of New York City's bid for the 2012 Summer Olympics.
After many hurdles and failed attempts, the project finally broke ground on December 4, 2012 and opened its first phase to the public on March 15, 2019.
3. It's the largest private real estate development in U.S. history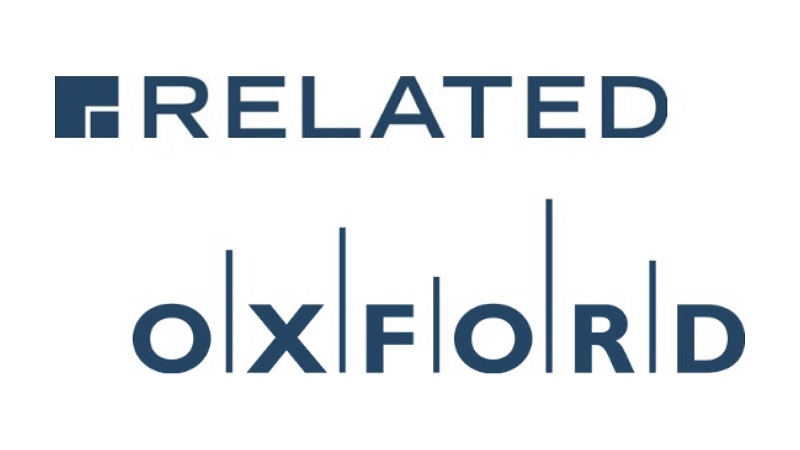 Hudson Yards was built using funding both private and public — including taxpayer dollars — totaling some $25 billion. Related Companies and Oxford Properties are the primary developers and major equity partners, along with several large investors and capital sources including a visa program.
The use of taxpayer money wasn't without controversy. However, the developers estimate that Hudson Yards will contribute $19 billion annually to NYC's GDP and generate more than $500 million in city tax revenue, plus host more than 55,752 workers on a daily basis.
4. It's the site of a brand new city landmark, Vessel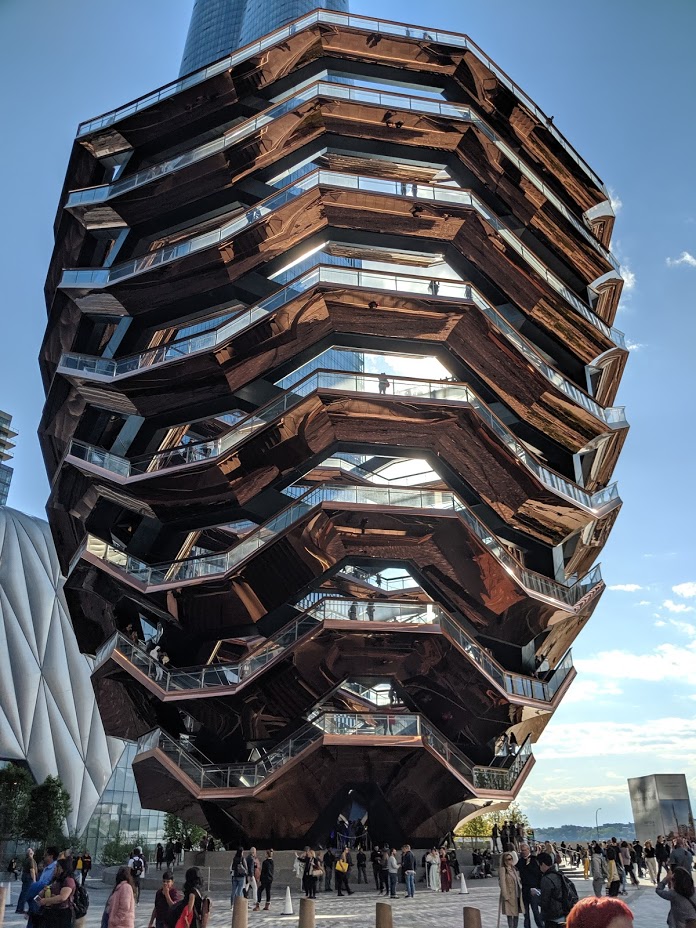 Rising up 16 stories and consisting of 154 flights of stairs, 2,500 steps and 80 landings, the climbable structure known as Vessel is Hudson Yards' centerpiece and the city's newest landmark. Designed by British architect Thomas Heatherwick, Vessel opened to the public on March 15, 2019 and became an instant sensation, with locals and tourists flocking there to snap the perfect photo.
Entering the structure is free of charge, but tickets must be reserved online in advance of your visit.
5. It's a major dining destination
View this post on Instagram
The neighborhood includes the highly anticipated Shops & Restaurants at Hudson Yards, the city's hottest new dining destination. Every restaurant is by a notable chef or hospitality group, including Thomas Keller's TAK Room, José Andrés' Mercado Little Spain and David Chang's Kāwi. More establishments are to come, so foodies should stay tuned.
6. …and shopping destination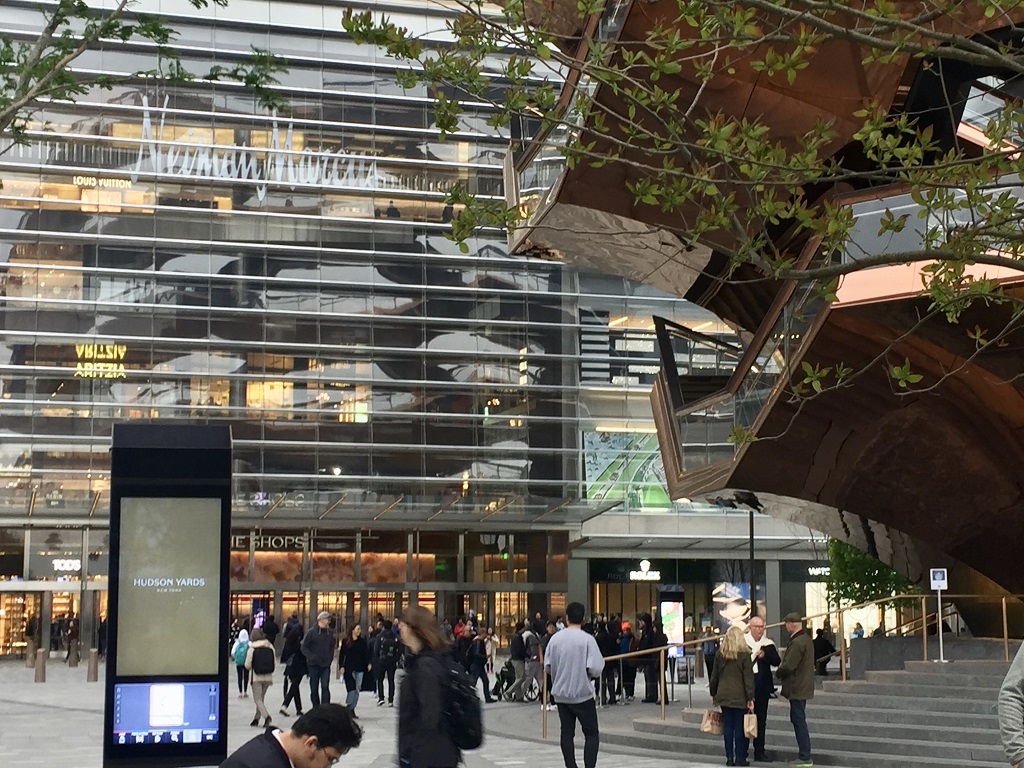 Those shops include NYC's first and only Neiman Marcus, as well as other luxury retailers like Cartier, Dior, Fendi, Chanel, Louis Vuitton and Rolex. If you can barely afford to window shop at these stores, you'll also find more accessible options like H&M, Zara, Athleta, Banana Republic, Madewell, Uniqlo and Sephora.
7. …and culture destination, too
Adjacent to Vessel, you may notice a large rectangular structure. That's The Shed, "A new arts center for the 21st Century" that will host cultural programming in music, theater, fashion and more. It boasts a retractable shell creating a space, named The McCourt, for performances, installations and events, as well as a 500-seat theater and two levels of exhibition space. New York Fashion Week is considering using the space for future shows.
8. It will be a major commercial center
Hudson Yards isn't all about luxury living, shopping, dining and culture — it's a place to nine-to-five it as well. A number of major companies have moved or plan on moving their headquarters to the neighborhood, including Coach, BlackRock, Tapestry, Boston Consulting Group, Alphabet subsidiary Sidewalk Labs, Time Warner, DNB Bank and Wells Fargo Securities.
9. It was a transit desert until recently
A transit desert is a location not adequately served by public transportation. For a long time, Hudson Yards was a challenge to reach by subway, with no routes extending far enough westward. Those visiting the Javits Center were forced to walk multiple avenues or take a cab, amid traffic coming in and out of the Lincoln Tunnel.
All of this changed on September 13, 2015 when the 7 train was expanded to a brand new station, 34th Street–Hudson Yards. The station's construction was a component of the overall Hudson Yards development project, and the first completely new station added to the New York City Subway system since 1989.
10. There's still more to come
As the seemingly never-ending construction indicates, Hudson Yards is a living, breathing neighborhood that is still growing. 30 Hudson Yards, a mixed-use skyscraper that topped out at 1,296 feet on July 17, 2018, is expected to open its 101st-floor observation deck to the public in 2020. At 1,100 feet, it will be the highest outdoor observation deck in the Western Hemisphere. Also yet to be completed is 50 Hudson Yards, which will house offices and retail.
A second phase of the project, named the Western Yard, is also underway. It will involve the western portion of the neighborhood, between 30th and 33rd Streets and 11th and 12th Avenues, and will include up to seven residential towers, an office building tentatively known as "West Tower" and a school serving Pre-K to eighth grade students. Construction has not yet begun, but is slated to be completed by 2024.
Stay different in Hudson Yards
It's a brand new neighborhood, so why not find a brand new way to stay there? Rent one of our short-term furnished apartments in the neighborhood at Abington House or One Hudson Yards.
More on NYC neighborhoods