Brooklyn, New York. Where do we start? What was once a primarily residential outer borough has become a destination in and of itself within just a couple of decades. As more and more people were priced out of Manhattan, neighborhoods in Brooklyn saw an influx of residential development, hip restaurants and bars, nightlife, high-end retail and droves of young adults looking to put down roots. "Brooklyn's good. Brooklyn's funky. Brooklyn's happening," as social activist Waris Dirie put it.
But there's more to New York's most populous borough than hipsters and high rises. There are family-oriented neighborhoods, historic brownstones, tree-lined streets, ethnic enclaves, up-and-coming districts and more. Here is your guide to some of the best neighborhoods in Brooklyn depending on what you're seeking.
For the family-oriented: Park Slope and Windsor Terrace
You've heard the story countless times in popular culture – famously Sex and the City – and perhaps your own life too. A longtime Manhattan resident starts a family and leaves the island for more space, less commotion and better schools in Brooklyn. But toward which neighborhoods are they gravitating?
The go-to answer is Park Slope. The neighborhood's quality public schools, access to public transit, green space and safety, among other factors, make it one of NYC's most desirable neighborhoods for families. Residents enjoy the proximity to Prospect Park, the Brooklyn Academy of Music, the Brooklyn Botanic Garden, the Brooklyn Museum and the Brooklyn Conservatory of Music, so the kids can get plenty of culture and outdoor recreation. Parents love the many restaurants, bars and boutiques along Seventh Avenue for date nights away from the little ones.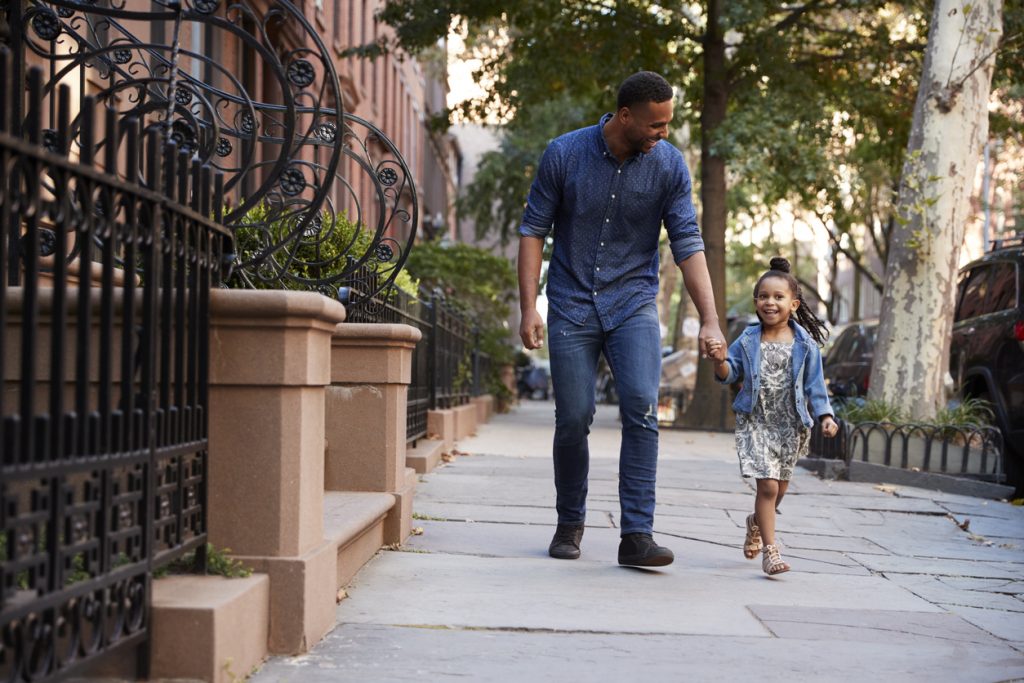 A more affordable nearby alternative, Windsor Terrace, has also become popular among families as of late. Just south of Park Slope, Windsor Terrace shares a similar residential vibe. It's said to be even quieter and more neighborhood-feeling than Park Slope, due to its smaller density and less commercial development. Read Brick Underground's comparison piece for more information on Park Slope vs. Windsor Terrace.
For hustle and bustle: Downtown Brooklyn
Downtown Brooklyn is the borough's central hub for business, art, culture, entertainment, retail, education and transit. The busy streets and sidewalks, countless subway lines and high-rise buildings are enough to make you forget you're not in Manhattan.
You'll find families living in classic brownstones, but also brand new luxury residences attracting young singles and their dogs. Mixed-use development – structures housing a mix of apartments, retail, entertainment, dining and more – has become a strong (and controversial) symbol of the neighborhood.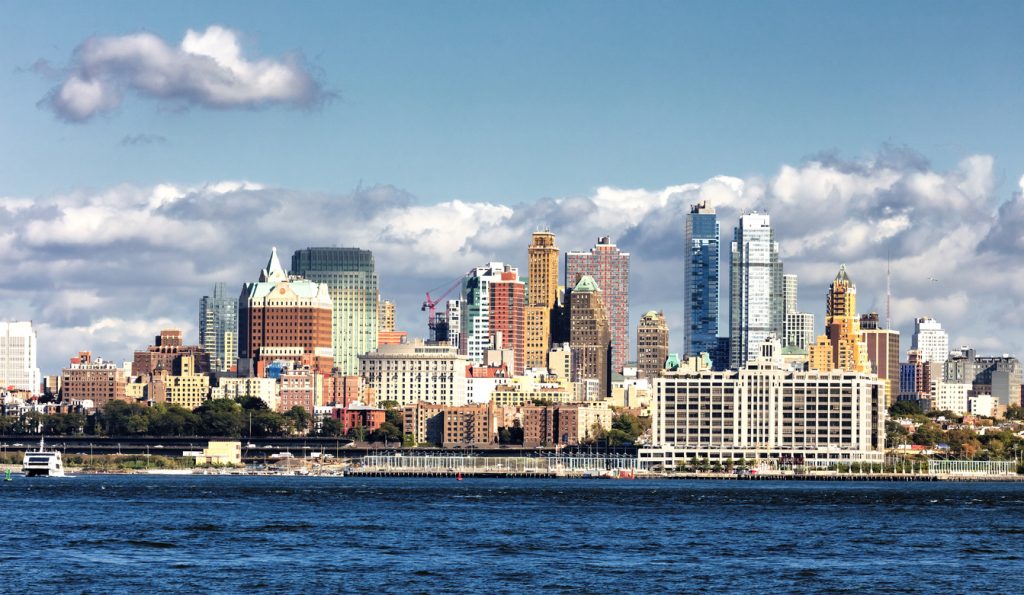 Speaking of dining, don't miss DeKalb Market Hall, home to 40 food vendors showcasing the cultural and ethnic diversity of the borough. Vendors like Ample Hills Creamery, Arepa Lady, Dulcinea, Paella Shack and Pierogi Boys attract foodies from all over the city.
If you're looking to feel connected to the rest of the city, quite literally, you'll feel right at home in Downtown Brooklyn. Nearly every subway line has stops in the neighborhood, plus you can catch the Long Island Rail Road at Barclays Center.
For a mix of old and new: Williamsburg and Greenpoint
Williamsburg
No best neighborhoods in Brooklyn list is complete without Williamsburg. This waterfront neighborhood often brings one word to mind: gentrification. Or perhaps it's two – hipster also comes to mind, which often goes hand-in-hand with gentrification. And while it may be hard to tell from the luxury high rises, swanky hotels, rooftop bars, bottomless mimosa brunches and Whole Foods, Sephora and Apple storefronts, the 'Burg has a rich history. If you look close enough, you'll find remnants of the neighborhood's Hasidic Jewish, Italian, Polish, Puerto Rican and Dominican communities – signs and posters written in Yiddish, Our Lady of Mount Carmel church, the Latino neighborhood of Los Sures, etc.
For a taste of modern Williamsburg, visit the Wythe Hotel's rooftop bar with stellar views of Manhattan, take a stroll down Bedford Avenue, catch a flick at Nitehawk Cinema or explore the brand new Domino Park, a waterfront public park built on the site of the former Domino Sugar Refinery. Williamsburg also has some of the city's best eats, so indulge your senses at Bedford Cheese Shop, have an amazing steak dinner at Peter Luger or grab a late-night slice at Williamsburg Pizza.
Greenpoint
Brooklyn's northernmost neighborhood, Greenpoint, is another interesting mix of ethnic history and recent gentrification. Originally farmland, Greenpoint has historically been home to a large Polish community and many Polish restaurants, markets and businesses. The neighborhood was also a working class and immigrant haven, with its many factory jobs and dock work attracting these communities in the nineteenth century. In the early 2000s, Greenpoint joined Williamsburg as another hotspot for Brooklyn gentrification.
The old Greenpoint is best experienced through its many Polish bakeries, many of which are found along Manhattan Avenue. You may not be able to pronounce the names of them, but you can be sure they're authentic and delicious. Since gentrification, the neighborhood has become a destination for some of the city's best dining. When Eater NY asked top food writers their favorite neighborhoods for restaurants in 2018, six of them named Greenpoint.
For outdoor space and scenic views: DUMBO
Cross the Manhattan or Brooklyn Bridge and you'll end up in DUMBO, an acronym for Down Under the Manhattan Bridge Overpass. Since the late 1990s, DUMBO has emerged as one of Brooklyn's top districts for technology startups, dining, real estate and the arts.
With two of NYC's most iconic bridges serving as the backdrop, it's hard to beat DUMBO's outdoor space and picturesque views. Brooklyn Bridge Park is your go-to for picnics, movie screenings, waterfront workouts and more, while the Archway under the Manhattan Bridge hosts performances, events, street fairs, food vendors and more.
View this post on Instagram
Head to Washington Street between Front and Water for a world-famous photo spot, where the Manhattan Bridge is beautifully framed by brick warehouses and cobblestone streets. You can even include the Empire State Building in your shot between the bridge's vertical posts.
For architecture and history lovers: Brooklyn Heights
Considered New York City's first suburb, Brooklyn Heights encompasses what many people picture when they think of classic Brooklyn: brownstones, rowhouses and tree-lined streets. Many of these homes were built prior to the Civil War and represent an array of architectural styles, including Greek Revival, Italianate, Second Empire, Victorian Gothic, Romanesque, Neo-Grec and Classical Revival. You can spot some old mansions as well, especially along Pierrepont Street and Pierrepont Place. Don't overlook the beautiful churches either, including Plymouth Church of the Pilgrims, Our Lady of Lebanon Maronite Catholic Cathedral, the First Unitarian Congregational Society and St. Ann's and the Holy Trinity Church.
The neighborhood was the first one to be protected by the city's 1965 Landmarks Preservation Law and added to the National Register of Historic Places. To this day it has very few high-rise buildings, providing a rare glimpse of early Brooklyn.
For all things edgy: Bushwick
As rents have skyrocketed in Williamsburg since its gentrification, young professionals, artists and musicians (okay fine, go ahead and call them hipsters) seeking a more affordable enclave in Brooklyn have turned to the adjacent Bushwick. The industrial, historically Latino neighborhood has become an interesting mix of new residential development, art galleries, health food stores, avant-garde nightlife, trendy restaurants, hip bars and artisanal coffee shops among factories and warehouses.
A defining feature of the neighborhood is its colorful graffiti, street art and murals, often painted on massive brick walls. The Bushwick Collective is the neighborhood's artistic mecca, serving as an open-air museum of street art.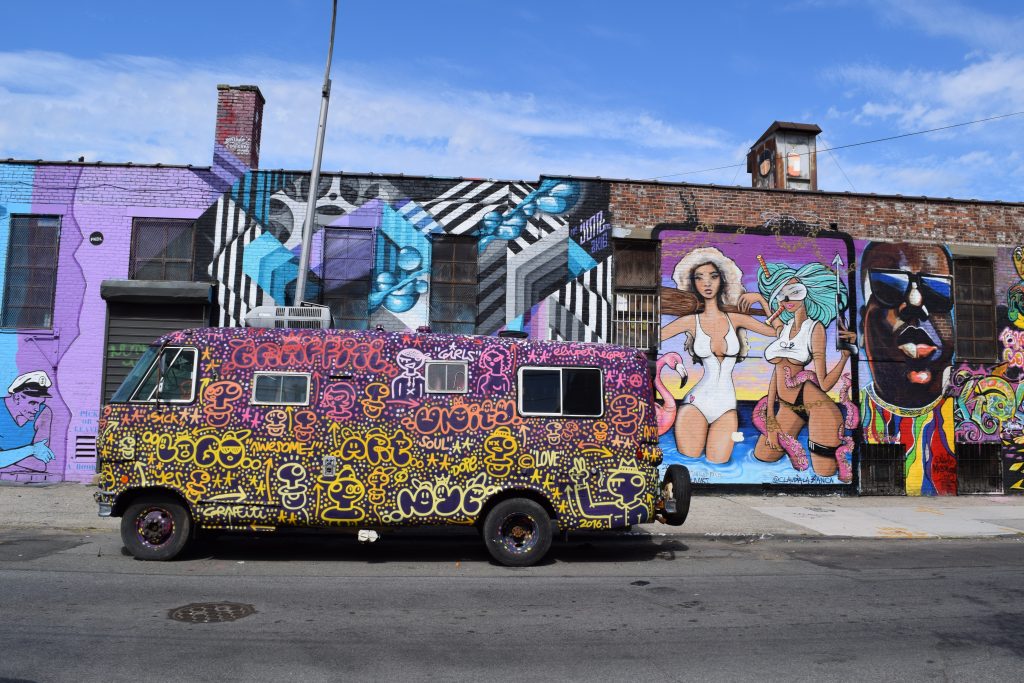 Don't miss Roberta's, an Italian eatery serving authentic wood-fired pizzas in an industrial-chic space that attracts foodies from all over the city. Other favorites include Faro, Mission Chinese, Bunna Cafe and Ichiran. For a night to remember – or not remember – hit up House of YES, an eclectic nightclub in a former warehouse hosting wild themed parties.
Stay different in Brooklyn
You came to Brooklyn to be different, so why not stay different as well? Furnished Quarters has short-term, move-in ready apartments available in some of the best neighborhoods in Brooklyn like Williamsburg, Brooklyn Heights, Downtown Brooklyn and Fort Greene. You're a quick subway ride from Manhattan yet removed from the hustle and bustle.