Furnished Quarters Announces Major Investment in Technology
---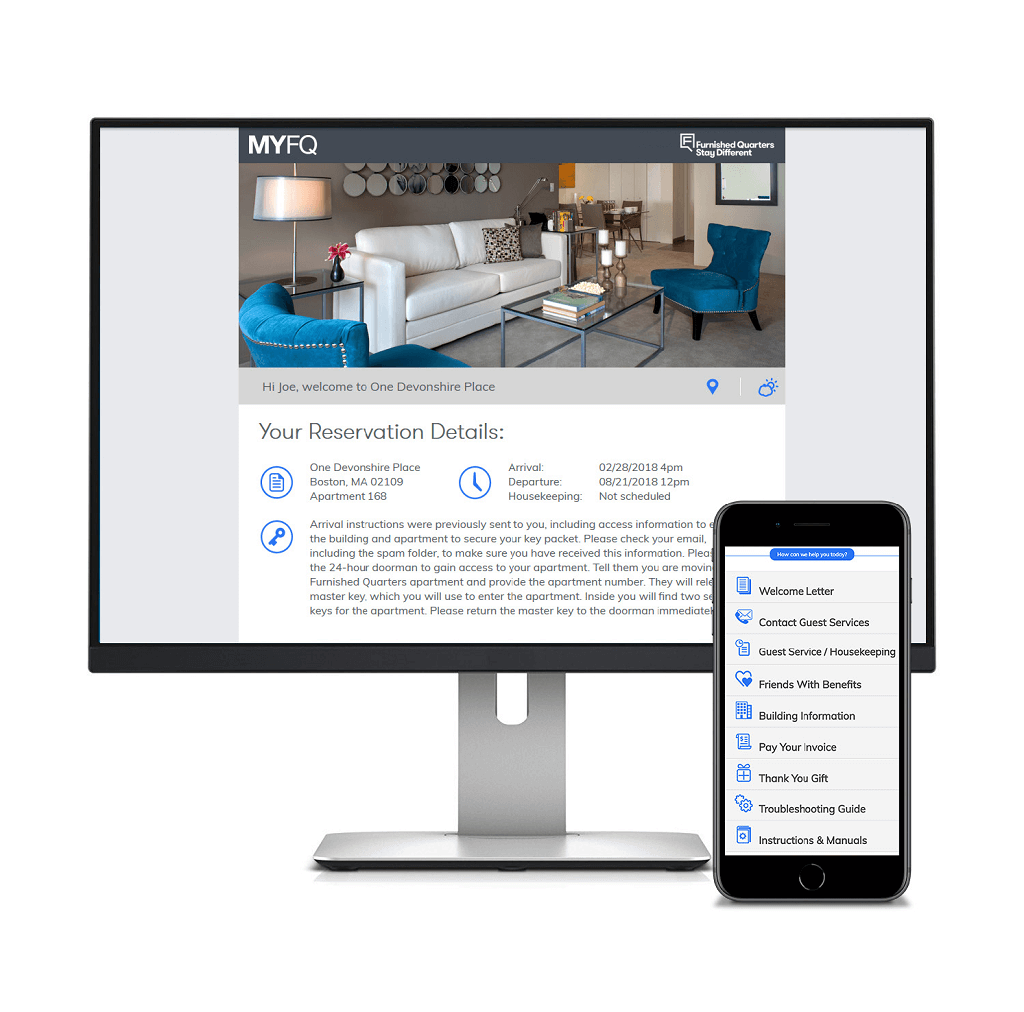 Pioneers a New Standard in Corporate Housing from Backend Systems to Customer Experience
New York, NY, Aug 7, 2018 – Furnished Quarters, the largest independently owned and operated provider of temporary furnished apartments, has announced a number of initiatives that will heighten the role of technology in the company's key business operations.
The initiatives include the release of a cutting-edge website, a revamped customer application and a growing technology team. These investments in new products and staff will enable the company to remain an industry leader in the ultra-competitive professional temporary housing market.
Furnished Quarters' new website will launch in the fall of 2018. After months of research and testing, the site will revolutionize how corporate apartment reservations are made online. It will feature a real-time booking feature powered by a completely overhauled apartment inventory management system.
Guests in Furnished Quarters apartments will also have access to an enhanced version of MyFQ, a trailblazing app providing them easy access to stay-related resources such as arrival information, housekeeping schedules, service requests, reservation modification and many other features.
"It isn't enough to just offer the best accommodations. Today's guests expect the ability to book instantly and have access to updated information anytime, anywhere," said Steve Brown, CEO of Furnished Quarters. "Making this investment is paramount to the future of the company and the satisfaction of our clients as we expand globally."
To provide these enhanced services to customers, Furnished Quarters is adding two full-time employees to its in-house technology team. The new team will be led by Cory Haber, Furnished Quarters' VP of Technology. Haber has spearheaded the growth and expansion of the company's technology initiatives, which are now entering an accelerated phase.
"These are very exciting times. We're glad to be further improving the experience of guests, corporate travel managers and global mobility professionals with simple, secure access to real-time information," said Haber. "We also stand ready to continue evolving our technology solutions to fit clients' changing needs."
About Furnished Quarters
Furnished Quarters is the largest independently owned and operated supplier of global temporary housing, offering over 100,000 fully furnished apartments in more than 800 cities around the world. The company, established in 1998 in New York City by brothers Steven and Gary Brown, currently serves more than 5,500 clients, ranging from top Fortune 500 corporations to small businesses.