Moving is stressful, and there are only so many things we can do to make it less so. One thing we can do, though, is stay organized. Rather than throwing your belongings into boxes and calling it a day, it's important to navigate the moving process with intention. In addition to helping with packing, unpacking and the like, staying organized will put your mind at ease and foster a smoother transition, both emotionally and logistically. Follow these 5 simple tips on how to organize a move and take on the task like a pro.
Tips for Organizing Your Move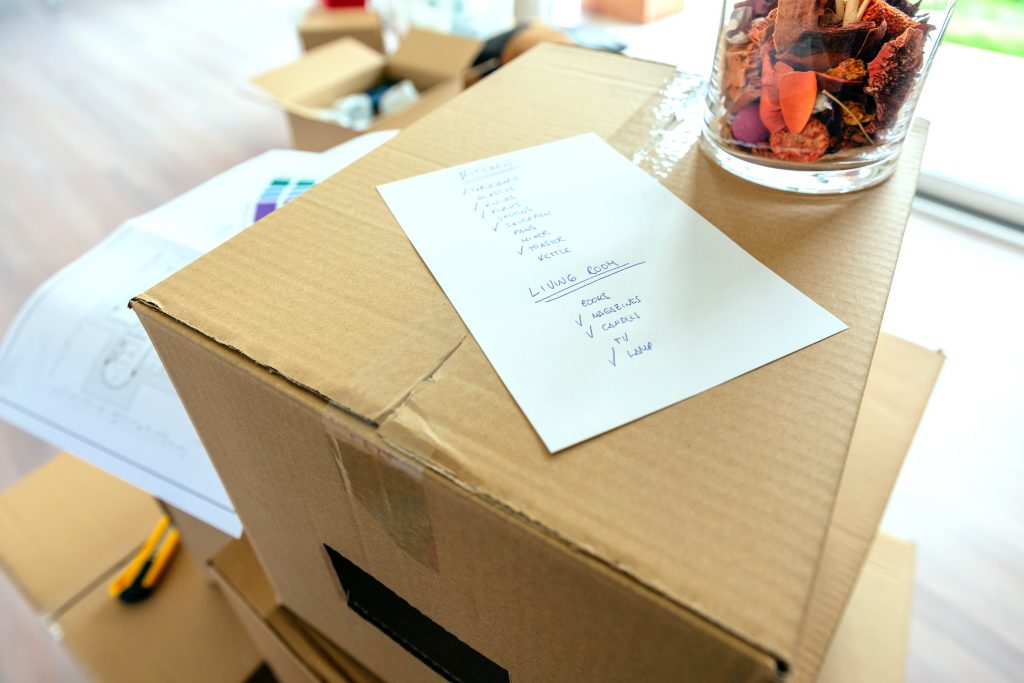 1. Break down your to-do list
Creating and maintaining a "moving" to-do list is key to tracking everything that needs to get done during your move. But like the move itself, it should be approached in an organized manner.
Your moving to-do list should be comprehensive, but it doesn't have to be overwhelming — and it shouldn't be. Keep it manageable by breaking it down into sub-lists, such as:
Sample moving to-do list categories
Moving supplies to purchase: Boxes, tape, bubble wrap, etc.
Services to hire: Movers, cleaners, vehicle rentals, etc.
Items to pack: Clothes, shoes, books, kitchenware, artwork, etc.
Utilities to set up, transfer or cancel
Items to sell or give away
Day before, day of and day after moving
Cleaning
BONUS TIP: Make your to-do list items actionable by keeping them specific and beginning them with a verb. For instance, "Buy packing tape" is better than "Moving supplies," "Call Spectrum to transfer Internet service" is better than "Utilities," and "Bubble wrap glassware" is better than "Glassware."
2. Use apps to manage your move
For the digitally inclined, apps can help you organize your moving-related to-dos, expenses, labor and more. There are so many, in fact, that we've broken them down by category below.
List-keeping
Trello
Google Tasks
Evernote
Wunderlist
Todoist
Moving Checklist
Moving services
TaskRabbit – Find "taskers" to help with cleaning, loading, unloading, handyman work, furniture assembly/disassembly, etc.
Thumbtack – Match with local professionals, including movers.
GoShare* – "Uber for moving." Connect with truck and van owners for moving help.
Dolly* – Get on-demand moving help.
Bellhops* – Affordable movers and moving services.
Unpakt – Compare moving companies, get price quotes and book movers online.
Packing
Sortly – Organize the packing process by keeping inventory of your belongings.
Selling belongings
letgo – Buy and sell your used items directly to other individuals.
OfferUp – Similar to letgo.
Facebook Marketplace – Discover, buy and sell items through your local community.
thredUP – The world's largest online thrift store.
Moving planning assistance
Moved – Pairs you with a real-live personal assistant who helps you coordinate the moving process. It's free; you only pay when you order items or book a service through the platform.
*Only available in select cities
3. Pack an overnight bag with essentials
The last thing you want when you arrive in your new place is to be scrambling to find your toothbrush and an outfit for work the next day. Avoid this by packing an overnight bag with essentials you'll need access to before fully unpacking, like clothing, toiletries, medicine, towels, electronics and chargers.
4. Pack room-by-room
The packing and unpacking process will be a lot easier if you pack room-by-room. Pack your bedroom items in one set of boxes, then living room, kitchen, etc. Within each room, you may also want to pack groups of items like books, pots and pans or glass into their own boxes. By packing in this way, you'll be able to unpack room-by-room as well.
5. Label smartly
Labeling your moving boxes is an organization must-do but labeling them smartly is just as crucial. Be sure to label each box with the room the items belong to and a general list or description of the items. Many expert movers also recommend color-coding your boxes by assigning a color for each room.
Moving is easier with a temporary furnished apartment
Want to make your move even easier? Rent a short-term furnished apartment to stay in while you try out a neighborhood or look for more permanent accommodations. Search our furnished apartments in New York, New Jersey, Boston, San Francisco and beyond.