New York is one-of-a-kind in many ways, having its own lingo, etiquette, customs and speed that are unlike those of any other city. It can often feel like visitors and newcomers should be handed an instruction manual upon arrival. The controversial practice of tipping in NYC is no exception.
Tipping may be customary all throughout the United States, but New York City—with its quick pace, busy streets, harsh weather and sky-high cost of living—has a tipping etiquette all its own. Knowing these tipping expectations will put you at ease when the bill comes and help avoid any awkward transactions.
Before you so much as hop into a cab from the airport, read this handy NYC tipping guide on whom and what to tip in the city.
Tipping Etiquette for Taxis and Rideshares
There's a good chance that a cab ride will be your first encounter with tipping in NYC. A 15-20% tip is the norm, or for a short ride, round up the total fare and add a dollar. Add more if the taxi driver goes out of his way to get you somewhere quickly, help with your luggage, unload your groceries or perform other similar favors. If you're paying with a card, the touchscreen pad will allow you to choose a percentage and then calculate the taxi tip for you.
For ridesharing apps like Uber and Lyft, tipping is optional and can be done within the app. $2 per passenger on short rides is satisfactory for New York City. Tip more on longer rides or when the driver goes above and beyond expectations. It'll help your rating too!
Tipping Doormen

If you're staying in a hotel or luxury apartment building in NYC, there may be a doorman posted at the main entrance of the building. Doormen may perform favors for tenants and guests, and it's customary to provide a tip as a thank you. For simple tasks like hailing you a cab, a $2 tip is sufficient. For assisting you with your luggage, tip $2 per bag. For helping carry groceries, a $2 tip is fine, but NYC tipping etiquette calls for at least a $3 tip if you have more than three bags.
Tipping Servers at Restaurants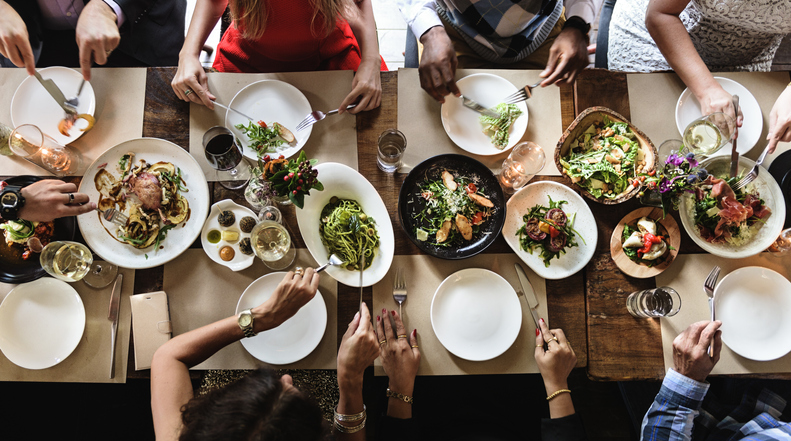 The standard 15-20% of the total is satisfactory for a tip, but know that in high-end establishments, closer to 20% is expected in NYC. Make it at least 20% if you have a large party and/or the service was extraordinary. Check your receipt first, as sometimes the gratuity is already included or suggested.
Tipping at Bars in NYC

If drinks are less than $10 each, add a $1 tip per drink. At higher-end establishments where drinks are pricier, you'll want to make sure the tip equals $2 per drink or 20% of the total tab. As usual, always tip extra for stellar service.
Tipping for Food or Grocery Delivery

New York City is fortunate to have food delivery available almost anytime, anywhere, but it's important to tip the delivery people appropriately. A good rule of thumb is to tip $2 or 10% of the total bill, whichever amount is greater. For large or difficult orders—lots of omissions or substitutions, delivery person has to walk several flights of stairs, etc.—tip 15-20% of the total.
If you're having groceries delivered, a $1 or $2 tip per bag is appropriate. Again, keep in mind how many bags there are and how much labor is required, like carrying them up stairs.
In case of inclement weather, like severe heat, cold, rain or snow, be extremely generous with your gratuity. It's not unusual to tip 25% or more under such circumstances in NYC.
Looking for Furnished Housing in NYC?
Now that you know the proper tipping etiquette in NYC, you'll need a place to stay. View our selection of furnished apartments in NYC and book online today.