An Interview with Alexandra Hare, Furnished Quarters Director of Marketing and Full-Time Mom
The option to work-from-home has become more common post-pandemic, with many companies offering remote positions and a flexible, hybrid working environment. This has presented so many options to the common "mompreneurs" to work remotely, even running their own business out of their home office, all while still holding a full-time position as MOM.
Alexandra Hare joined Furnished Quarters in December 2021 as Director of Marketing. Alex resides in Long Island with her husband Ned, and 2.5-year old twins – yes, twins – Charlie and Siena. Not only has Alex successfully navigated a pandemic all while raising two young toddlers, but recently returned to work accepting a new full-time job – with Furnished Quarters.
We had the opportunity to sit down with Alex to learn more about how she manages the daily WFH challenges, what she's learned, and some insightful tips that she hopes can help others find balance in being a full-time working mom.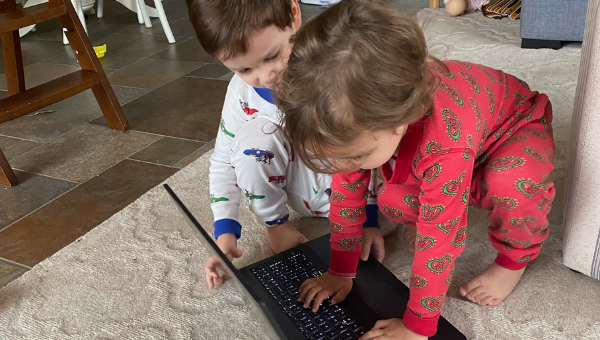 Q: What has been the biggest challenge you've faced working remotely?
A: For me, the biggest challenge is feeling like I have to play so many different roles, all at once. I have to be Alex the employee, the boss, the colleague, the wife, the mother, the friend…it's a daily balancing act. The work-from-home hybrid work model has been a game-changer and has helped working parents like me manage our schedules. The commuting time I got back in my day has been amazing – it's given me extra time to spend with the kids.
One of the biggest challenges in the new work-from-home lifestyle is the blurred lines that divide work and home life. I've learned it's vital to set boundaries between work and personal life. You don't always need to have your phone or laptop in your hand when spending time with your family.
Q: You started working for Furnished Quarters 5 months ago, what should any working mom consider before beginning a new job, with a new company?
A: Be confident in your skills and your experience. Don't focus on your limitations and extra responsibilities required of you at home. Talented and ambitious people have a way of succeeding quickly. It's also important to understand the options available to you – working parents have more options now than ever. Know your value and analyze if you are in an environment where you can thrive and be your authentic self. Immediately I knew, the people and the overall culture here at Furnished Quarters would be compatible to both my professional life and home life.
Q: What's the best advice you can share for mothers who are interested in pursuing a career? Or return to work post-maternity leave?
A: Change the way you recognize achievement and don't judge yourself as a mother on a short-term basis. Some days you will feel like you aren't a good mom because you spent so much time doing work, and not enough time with the kids. Don't do that to yourself! As long as your kids are loved and supported are doing an amazing job. Some days will go more smoothly than others, this isn't a marathon, we aren't being judged on a day-to-day basis. Take it one step at a time.
Don't be afraid to block out extra time to work either. If you know you need extra time to work when your kids go to bed, then do it 1-2 nights a week. Just don't make a habit out of it, balance is key.
Steal time for yourself. This could mean different things each day. Some days it's catching up with friends on the phone, going for a run, or spending some time outside – lean into whatever feels the best for you at that time.
Lastly, don't let the anxiety eat you alive! There is no worse feeling than being up all night with two sick kids – twin perks- and watching the clock wondering how you will get through the work day on 0 sleep. It may not be the best day, but you can and will survive. It's amazing what a little concealer and a lot of coffee can fix!
Q: What can moms do to manage their time better?
A: Make a daily to-do list of the things you absolutely have to get done that day. Keep it simple because unchecked items could make you feel overwhelmed.
Develop a great pre-work and post-work routine for yourself and your kids. If you stick to it 50% of the time, you should consider yourself a master!
And don't be afraid to say "no" – whether it's in a meeting, social event, or to your kids. This word has magic powers.
Q: What kind of support do you need to be successful?
A: Quality childcare. I am beyond lucky that my parents live 10 minutes away and are able to help out with the kids. I recognize that this is extremely rare and not everyone has this. It is vital that our local and national elected officials do more to support local families by providing more access to affordable, reliable childcare.
A strong support network. I have an amazing team of wonderful friends who will always be there to pick me up when I fall down and will always be there to celebrate all the achievements along the way.
Q: Any closing thoughts?
A: Whether you choose to stay home full-time, work full-time, or try something in-between, there are pros and cons to every decision. At the end of the day, you need to do what is best for you and your family. Don't judge yourself by other people's standards, go into every situation with an open mind, and an open heart. Working in such a collaborative environment here at Furnished Quarters has really supported the family-first mentality. And remember, moms have superpowers…we got this!