There's no shortage of culture in New York. From museums to performance arts centers to ethnic restaurants, there aren't enough hours in the day to take it all in. But aside from time, what if you're short on money? Not a problem—there are plenty of museums in New York City that offer completely free admission, perfect for travelers looking to get to know NYC on a budget.
For an inexpensive cultural experience, visit these four best free museums in NYC.
1. The Stephen A. Schwarzman Building at the New York Public Library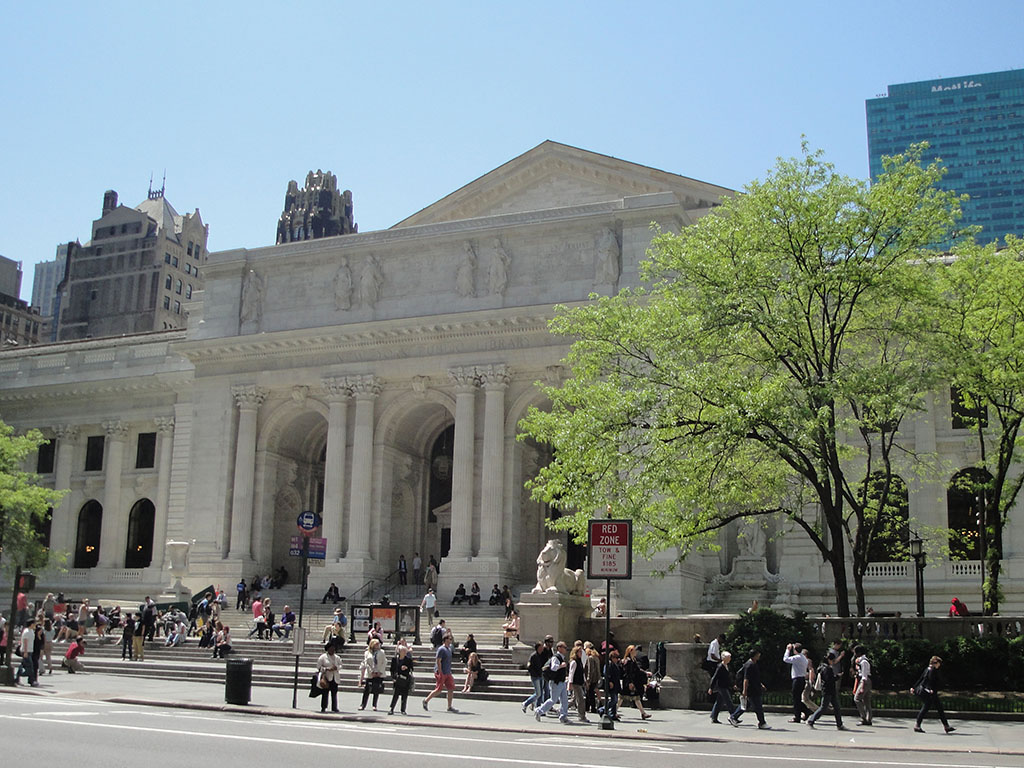 By OptimumPx – Own work, Public Domain, Link
Always free and open to the public, the New York Public Library is more than just a library. The Stephen A. Schwarzman Building, also known as the NYPL's Central Building or Main Branch, serves as a research library as well as a free museum. You may recognize it by the famous marble lion statues, Patience and Fortitude, who guard the outside entrance to the building.
You can take a free guided tour of the museum, or if you'd rather explore solo, a self-guided audio tour is available. The museum offers free exhibitions on wide-ranging subjects, from ancient Venetian music and art to mid-century airline pictorial maps. The guided tour includes a look into the majestic, newly renovated Rose Main Reading Room—an absolute must-see.
2. Federal Reserve Bank of New York

Learn about the roles and responsibilities of the Federal Reserve, the central bank of the United States, by taking a free guided tour of its New York branch. Visitors say it's a fascinating and informative experience. The highlight? Seeing the bank's gold vault, which stores approximately 7,000 tons of gold bars belonging to various world governments and organizations.
The only caveat is that booking a tour requires some planning. Each tour takes a maximum of 25 people and opens up for booking 30 days in advance. Previous visitors suggest being on the website ready to request your tour at 9am sharp, exactly 30 days before you plan to visit.
3. The Museum at Fashion Institute of Technology

Over 100,000 people visit The Museum at the Fashion Institute of Technology every year, browsing its impressive collections of clothing, textiles and accessories. More than 50,000 costumes and fabrics on display date as far back as the 5th century. The Museum houses a permanent collection as well as temporary exhibitions on individual designers or the role of fashion in society. Fashionistas and non-fashionistas alike will enjoy this free museum in NYC and its dedication to making fashion both entertaining and educational.
4. New York Transit Museum: Grand Central Gallery Annex

NYC transit has a complex, extensive history spanning hundreds of years. Learn about it at the New York Transit Museum's Gallery Annex, located in Grand Central Terminal. This museum offers rotating exhibits highlighting the cultural, social and technological history of New York public transportation. It's a small museum, so there's no need to plan a whole day around it. Visitors say it's a fun way to kill time if you find yourself waiting for a train at Grand Central.
Miniature trains and scenery modeled after NYC transit run throughout the museum, with a special holiday-themed version appearing every winter. Be sure to visit the gift shop for transit-themed souvenirs, because who doesn't need a pair of flip flops with NYC subway maps on them?
Bonus: Pay-As-You-Wish Museums in NYC
Other NYC museums allow you to "pay as you wish," where your admission acts as a donation. Simply choose an amount to pay that fits your budget, and enjoy! Popular pay-what-you-wish museums in NYC include:
Metropolitan Museum of Art
American Museum of Natural History
Brooklyn Museum
The Met Cloisters
El Museo Del Barrio
MoMA PS1
New York City Police Museum
Queens Botanical Garden
Staten Island Museum
Looking for a Furnished Apartment in NYC?
If you're traveling to NYC for an extended period of time and want to consider an alternative to hotels, browse our NYC furnished apartments and book with just a few clicks.